Off Frame AKA Revolution Until Victory
Fall Grant 2013 - Production/Post-Production Stage
Synopsis
What is left today from the Palestinian revolution are some images and sounds, pieces of film scattered around the world and preserved in tins categorised by other people. These films record the life of people who are no longer on Earth; places that have changed; a history that doesn't have a place in memory. 'Off Frame' narrates the story of Palestinian revolutionary cinema by following the life of the Palestine Film Unit, a film group that was established in 1968 and that developed with the revolution until the Israeli invasion of Beirut in 1982.
Credits
Director

Mohanad Yaqubi

Screenwriter

Mohanad Yaqubi

Producer

Sami Said, Delphine Landes
About the Director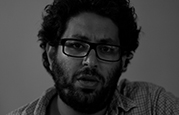 Mohanad Yaqubi is a filmmaker, producer, and one of the founders of Idioms Film. Yaqubi is also one of the founders of the research and curatorial collective Subversive, as well as a resident researcher at The Royal Academy of Fine Arts (KASK) in Gent, Belgium. Yaqubi's first feature film 'Off Frame AKA Revolution Until Victory' (2016) made its premieres at TIFF, Berlinale, Cinema du Reel, Dubai IFF, and Yamagata, among 50 other premieres and screenings around the world.
Awards and Festival History

Festivals


TIFF 2016 (WP)
Dubai International Film Festival 2016
Berlinale 2017, Forum Expanded
Cinéma du Réel 2017
Contacts