Nine Month War
Fall Grants 2017
Synopsis
Twenty-four-year-old Jani lives in a small town in Western Ukraine, part of the minority Hungarian community. An only child whose father died five years ago, Jani is fed up with the boring life in his hometown, and drowning in the love of his mother, Erzsike. When he is drafted by Ukrainian Army, called up to fight the separatists, he could sneak out of the country to escape the military service just like his fellows did, but instead he chooses to go to the war 1,500 kilometres away. But why? He is not a patriot; he is not even Ukrainian. Combining visuals of cinema verité and mobile footage of war, Jani's coming-of-age story unfolds over the nine months of his military service and the time after his discharge.
Credits
Director

László Csuja

Screenwriter

László Csuja

Producer

Ágnes Horváth-Szabó, András Pires Muhi

Production Company

ELF Pictures
About the Director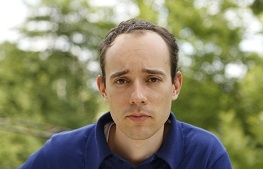 László Csuja was born in 1984. He graduated in Scriptwriting from the Hungarian Academy of Film and Drama. His short films have been screened at film festivals across Europe, among them the Tampere and Edinburgh International Film Festivals. He attended, among others, Talents Sarajevo, the Berlinale Talent Campus, and the Aristoteles Documentary Workshop. Csuja's first feature-length fiction film, supported by the Hungarian Film Fund, is currently in post-production.
Awards and Festival History

Festivals


Leipzig DOK Festival 2018

Awards


"Special Jury Prize, Sarajevo FF 2018 (WP)
Special Jury Prize, Cinema Vérité Iran Int'l Documentary FF 2018"
Contacts