NARDJES A.
Fall Grants 2019 - Post-Production Stage
Current project status: COMPLETED
Synopsis
March 8th, 2019, International Women's Day and the third consecutive Friday that the city of Algiers hosts a massive mobilization against the candidacy of Abdelaziz Bouteflika for his fifth presidential term. This date is also the starting point of this documentary film. It follows a day in the life of Nardjes, a young Algerian woman who finds in the protests demanding the resignation of their president also a space to claim what had been promised and stolen from her—her future. It is 65 years that separate the protests of 2019 from the struggles of independence of Algeria in which her own family has suffered so much. Wounds that Nardjes carries with her today. Underneath the vision of freedom and democracy, three generations are related in time.
This film is an intimate portrait of the soul of the young, the betrayed generation. The generation that made president Abdelaziz Bouteflika resign after nearly 20 years in power. Nardjes is one voice backed by the hundreds of thousands, chanting in the streets. But she is also a female voice in a male society. This film follows her while her whole country is marching towards an uncertain, but yet their own future.
Credits
Director

Karim Aïnouz

Screenwriter

Karim Aïnouz

Producer

MPM Film, Watchmen Productions, Show Guest Entertainment, CINEMA INFLAMÁVEL
About the Director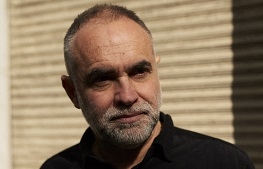 Karim Aïnouz is an award-winning filmmaker, screenwriter and visual artist. Aïnouz
debuted as a feature director with 'Madame Satã' (Cannes Un Certain Regard 2002).
Other works include 'Nardjes A.' (Berlin Panorama, 2020) 'Central Airport' THF (Berlin
Amnesty Prize 2018), 'Futuro Beach' (Berlin Competition 2014), 'The Silver Cliff' (Cannes
Director's Fortnight 2011), and 'Love for Sale' (Venice Horizons 2006). In 2008, Aïnouz
co-directed the T V series 'Alice' for HBO Latin America. His latest feature, 'Invisible Life',
premiered in Cannes Un Certain Regard in May 2019 where it received an award and
more than 50 prizes worldwide. Aïnouz is also a screenwriting mentor at the Brazilian
Institute Porto Iracema das Artes, and a member of the Academy of Motion Pictures Arts
and Sciences
Production Company Profile
Founded in 2007 by Marie-Pierre Macia, former Director of the Directors' Fortnight (Quinzaine des Réalisateurs) of the Cannes Film Festival, MPM Film has produced and coproduced internationally awarded films by established directors such as: 'The Turin Horse' by Béla Tarr (Silver Bear, Berlinale 2010), 'Xenia' by Panos H. Koutras (Un Certain Regard, Cannes 2014), 'Zama' by Lucrecia Martel (Out of Competition, Venice 2017); and worked with young directors such as the Romanian Adrian Sitaru with 'Hooked' (Venice Days, Venice 2008) and the Kenyan Wanuri Kahiu with 'Rafiki' (Un Certain Regard, Cannes 2018).
Awards and Festival History

Festivals


"Berlinale (WP), Panorama
Visions du Reel 2020 (online edition)"

Awards

Contacts