Musk
Fall Grants 2016 - Production Stage
Current project status: COMPLETED
Synopsis
After giving up a promising career in museum management to attend to his ailing father, Ahmed spends his days managing the family's dying perfume business. This sacrifice and his divorce have made him cynical about human nature and this manifests itself in his relationship with Abdulrahman, his aloof 12-year-old boy. Father and son do not see eye-to-eye, and it is as though they speak in different languages. Ahmed is also rather suspicious that his free-spirited sister is back from her travels in Europe to ensure she gets a nice chunk of the inheritance. Suddenly, Ahmed's ex-wife sues to deny him visitation rights, claiming she doesn't want her son to see his grandfather dying slowly.
Credits
Director

Humaid Alsuwaidi

Screenwriter

Humaid Alsuwaidi

Producer

Humaid Alsuwaidi
About the Director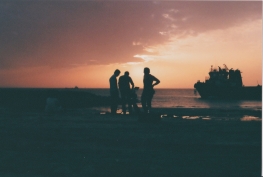 Humaid Alsuwaidi was born in Abu Dhabi in 1984. After working in a traditional office job for a few years, he enrolled in the New York Film Academy in 2010. Upon graduating, he worked on a number of short films, both on set and in post-production. 'Abdullah' (2015), his directorial debut, had its premiere at the Dubai International Film Festival. It tells the story of an Emirati boy who loves music while growing up in a very conservative family.
Production Company Profile
Based in the UAE, 1893 is Humaid Alsuwaidi's personal production company. It specialises in making independent feature films and also aims to expand to making TV commercials. Alsuwaidi's 'Abdullah' (2015) marks the launch of the company. Alsuwaidi aims to follow the style of his idol Francis Ford Coppola to create a family-like filmmaking environment of creative minds in order to tell unique stories. 1893 also provides music composition services for narrative films and television commercials.
Contacts