Mother, I Am Suffocating. This Is My Last Film About You
Fall Grants 2018
Current project status: COMPLETED
Synopsis
The wastelands and crowded streets of an African country are traversed by a woman bearing a wooden cross on her back. She is followed by sellers, beggars and passersby, outraged voices, pity and curious glances. Parallel to her, among a herd of sheep, a lamb toddles its way from the far away mountains into the heart of the city, only to find itself dangling, skinned and headless, on a butcher's shoulder. In the meantime, under the scorching sun, in a roofless house, a woman is persistently knitting a garment, unwinding a thread coiled over her son's face. 'Mother, I Am Suffocating. This is My Last Film About You' is a symbolic social-political voyage of a society, spiralling between religion, identity and collective memory. "I saw in you what they saw, mother. You deserve your war".
Credits
Director

Lemohang Jeremiah Mosese

Screenwriter

Lemohang Jeremiah Mosese

Producer

Lemohang Jeremiah Mosese
About the Director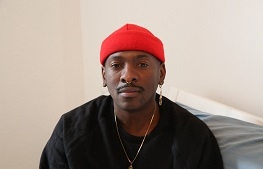 Lemohang Jeremiah Mosese is a Lesotho self-taught filmmaker. Two of his short films, 'Mosonngoa' (2014) and 'Behemoth - or the Game of God' (2015), have been screened in numerous international film festivals, including the Clermont-Ferrand International Short Film Festival, Raindance International Film Festival, Kinodot Film Festival, Festival del Cinema Africano, d'Asia e America Latina, as well as the Durban International Film Festival and L'Étrange Festival. Mosese is also an alumnus of the Berlinale Talent Campus (2012), Focus Features Africa First Short Film Program (2012), Realness Screenwriter's Residency (2017), and Final Cut in Venice workshop (2018).
Production Company Profile
Founded in 2009 in Lesotho, Mokoari Street is a production company and artists collective with a decidedly artistic aspiration, run by independent filmmakers Lemohang Jeremiah Mosese (Lesotho, South Africa) and Hannah Stockmann (Germany). Mokoari Street is committed to socially critical issues, backed by the belief that the mass-media are a fundamental factor in changing perspectives within a given society. Mokoari Street is a place of creation, training and exchanges in diverse forms of art. Their works range from essays, video art, fiction and documentary films. They collaborate with a wide range of artists overtime, including video artists, painters, writers, visual artists, graphic designers and sound-designers.
Awards and Festival History

Festivals


"Berlinale 2019 (WP), Forum
Sheffield Doc Festival 2019
JCC 2019
Marrakech IFF 2019"
Contacts