Miss Camel
Fall Grant 2015 - Development Stage
Synopsis
Melwah, a teenage camel, lives under the strict supervision of her father, and hangs out with her best friend, a donkey named Rakhsh. When Melwah's conceited arch-rival Al Rahila mocks Rakhsh while bragging about participating in the upcoming Miss Camel beauty pageant, Melwah stands up for her friend and vows to appear in the competition herself. So begins an adventure in which the young camel must rely on her dignity and determination. In the end, Melwah is triumphant – not as the winner of the beauty pageant, but as the fastest camel in the region.
Credits
Director

Haifaa Al Mansour

Screenwriter

Haifaa Al Mansour, Brad Niemann

Producer

Haifaa Al Mansour

Production Company

Razor Film

Production Company

Razor Film
About the Director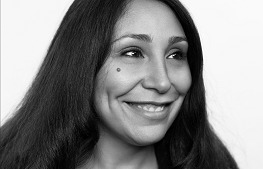 Haifaa Al-Mansour is Saudi Arabia's first female filmmaker and is regarded as one of the most significant figures in cinema in the Kingdom. She studied Literature at the American University in Cairo and completed a Master's degree in Directing and Film Studies at the University of Sydney. The success of her three short films, her award-winning documentary 'Women Without Shadows,' (2005) and her first feature-length film 'Wadjda' (2012) influenced a new wave of Saudi filmmakers and made the issue of opening cinemas in the Kingdom a front-page discussion. Through her films and her work in television and print media, Al-Mansour is well known for penetrating the wall of silence surrounding the lives of Saudi women.
Contacts