Miara
Fall Grants 2022 - Development Stage
Synopsis
Miara and her father, Ahar, are outcasts by choice, living in the hostile lands of 7th-century Morocco. Despite being a tough mentor, Miara means the world to Ahar. But the girl is tired of this lonely life and wants to belong to a tribe. Ahar forbids it—they can only rely on each other. When Amazigh tribes unite against a common threat, Ahar and Miara fight a new invading force, Viking warriors. Ahar's past is revealed, and Miara finds out he was a Viking king.

A decade ago, Lothar(Ahar) abandoned his kingdom and his daughter, Gunnfried, to seek a gift from the Gods. She never ceased to look for him. Lothar reunites with his long-lost biological daughter, Gunnfried. Yet, when she realises that he didn't go missing but abandoned her to raise Miara instead, she brutally murders him and blames Miara for her deed. Both women will go to hell and back to exact vengeance on each other. However, when a new threat emerges, they will have to unite as Miara's truest nature comes to light.
Credits
Director

Talal Selhami

Screenwriter

Talal Selhami, Jawad Lahlou

Producer

Lamia Chraibi

Production Company

La Prod
About the Director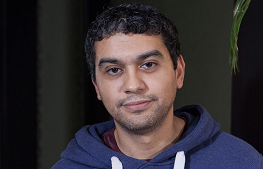 After graduating with a master's degree in Cinema from the University of Paris, Talal Selhami began his career directing several short films. His first feature film, 'Mirages', a thriller set in the Moroccan Desert, produced in 2010 by famous Moroccan director Nabil Ayouch, opens at Marrakech Film Festival to critical and audience praise. In 2020, he directed 'Achoura', the first feature film with a creature inspired by Moroccan mythology. He won the Best Film Award at the Hardline Festival in Germany and the Special Mention of the Jury at the prestigious Sitges Fantastic Film Festival. In the same year, he directed 'Tell Me Why', a video game which won the Game for Change Award in The Video Game Awards 2021. Talal is also currently working on his third feature, 'Le Refuge', produced by Lamia Chraibi.
Contacts