Merry Christmas, Yiwu
Spring Grants 2019 - Post-Production Stage
Current project status: COMPLETED
Synopsis
Communist ideals have long lost their value in Yiwu, a city with 600 Christmas factories, in which Christmas as we know it is produced for the entire world. With rising wages, the workers in Christmas factories can now afford the newest iPhones, but they still live in crowded dormitories. All migrants in their own country, nostalgic for someplace far away, some miss their families left in hometowns, others miss their friends and lovers from the factories when they go home for holidays. The young generation is already tired of long factory hours, chemical fumes and glitter particles, and they do not care for their parents' wishes to get educated. Stuck in between Chinese tradition and the newly discovered Chinese dream, they want their own businesses, to be rich, to be independent, to be in love. In this melancholic, observational documentary, the alluring visual aesthetic enhances the geopolitical twist and the irony of modern-day China.
Credits
Director

Mladen Kovacevic

Screenwriter

Mladen Kovacevic

Producer

Iva Plemic Divjak, Ruth Reid,
About the Director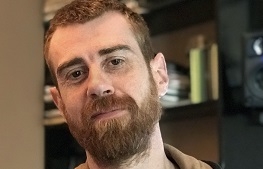 After studying fiction film directing in Belgrade, London, and Cape Town, in the past several years Mladen Kovačević has wholeheartedly dedicated himself to documentaries—becoming one of the most internationally acclaimed Serbian documentary filmmakers of his generation. He's made a few successful commissioned films before his auteur debut, the unpretentiously offbeat 'Unplugged' that brought him Grand Prix at the leading national documentary festival in Serbia - Beldocs, and a premiere at Visions du Réel competition, followed by Hot Docs, CPH:DOX, FIDMarseille, DOK Leipzig. His second film, 'Wall of Death and All That' also premiered at Visions du Réel, and also won Grand Prix at Beldocs. His latest, '4 Years in 10 Minutes' was awarded Special Mentions of the Jury at Visions du Réel, ZagrebDox, Belgrade International Documentary Film Festival, and the Grand Prix at Beldocs, was in competitions at Hot Docs, RIDM Montreal, and was selected for IDFA Best of Fests 2018. He has just completed shooting of 'Merry Christmas, Yiwu' in China. Presently, he is in development of two features' Beginnings', to be shot around the world, and 'Koryo' to be shot in North Korea.
Awards and Festival History

Festivals


"IFFR 2020 (WP), Bright Future
Sarajevo IFF 2020"
Contacts