Memory Hotel
Fall Grants 2016 - Post-Production Stage
Current project status: POST-PRODUCTION
Synopsis
Germany, 1945. World War II is nearing its climactic end. Five-year-old Sophie and her parents are refugees fleeing from the advancing Red Army. They hide in a hotel, where they encounter Nazi officer Scharf and Hitler Youth member Beckmann. As the Russians come closer, Sophie falls into a lift and is knocked unconscious. Meanwhile, Scharf accidentally kills Sophie's mother and Wassily, a paratrooper, kills her father. Time passes and teenage Sophie works for Soviet soldiers as a kitchen maid in the hotel. Food sometimes disappears, but Sophie finds the culprit: Beckmann, who has been hiding in a corridor beneath the hotel since the war ended. As an adult, Sophie reluctantly marries Wassily and develops a relationship with Beckmann. Decades go by; the Russians leave and Scharf takes over the hotel. Sophie convinces Beckmann to leave, and the pair head for the North Sea, turning their backs on the hotel and its memories.
Credits
Director

Heinrich Sabl

Screenwriter

Heinrich Sabl

Producer

Philippe Bober, Heinrich Sabl
About the Director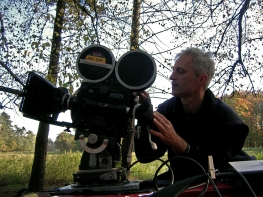 Heinrich Sabl grew up in the former East Germany in the 1960s, in a small industrial town close to the Polish border, where he escaped the strictures of the world by immersing himself in the world of theatre. He settled in East Berlin during the mid-80s and started directing animated short films, which were screened in key film festivals including the Annecy International Animated Film Festival, the Clermont-Ferrand International Short Film Festival and in competition at the Berlin International Film Festival, winning several significant film and animation awards. Most of his films have been broadcast on German television and on ARTE. Currently, Sabl is considered one of the best stop-motion animation directors.
Production Company Profile
Founded in 1987 by French producer Philippe Bober, Coproduction Office produces and sells bold and award-winning films by directors with strong personal vision, maintaining long-lasting working relationships with groundbreaking European directors Roy Andersson, Thomas Clay, Michelangelo Frammartino, Jessica Hausner, Ruben Östlund and Ulrich Seidl. Coproduction Office's international sales company is one of Europe's best sales entities, differentiating itself through both its outstanding catalogue of carefully chosen gems and the broad exploitation of its films. In the field of film production, Coproduction Office is home to three companies – Essential (Berlin), Parisienne (Paris) and Coproduction Office (Copenhagen) – with which Philippe Bober has worked as a producer on 30 films. Nine of these were selected for competition at the Festival de Cannes, five for competition at the Venice Film Festival, two were in competition at the Berlin International Film Fesitival, and seven appeared in the Un Certain Regard section at Cannes.
Contacts