Madame Courage
Spring Grant 2015 - Post-Production Stage
Current project status: COMPLETED
Synopsis
Omar, an unstable and lonely teenager, lives in a slum in the suburbs of the Algerian port city of Mostaganem. He is addicted to a well-known psychotropic – Artane, nicknamed 'Madame Courage', which is very popular among young Algerians for its euphoric effect of invincibility. Omar is a specialist in snatching. This morning, he goes downtown to go about his usual larceny. His first prey is a young girl named Selma, who is walking with her friends, prominently wearing a gold necklace. As he commits his crime, their eyes meet.
Credits
Director

Merzak Allouache

Screenwriter

Merzak Allouache

Producer

Antonin Dedet
About the Director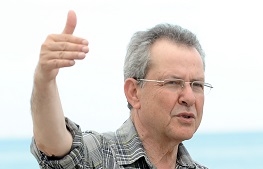 Merzak Allouache was born in Algeria in 1944. He studied filmmaking in Algiers at the Institut National du Cinéma and subsequently at IDHEC in Paris. In 1976, he directed his first feature, 'Omar Gatlato'. Since then, he has been directing films in France and Algeria, and his films are frequently selected in prestigious international festivals such as the Festival de Cannes, Venice and Berlin International Film Festivals.
Production Company Profile
Neon Productions is a French production company founded by Antonin Dedet in 2002. Since its creation, Neon has produced or co-produced 18 feature films, more than 45 short films and five documentaries, of which two are feature-length. The company has co-produced feature-length films with more than a dozen countries around the world. Working with directors who have a strong individual viewpoints, the company aims to support ambitious and meaningful arthouse cinema. Neon's most recent features include Merzak Allouache's 'Madame Courage', which screened in Venice in the Orizzonti competition; Tsai Ming-liang's 'Journey to the West', which screened at the Berlinale in 2013; Djamila Sahraoui's 'Yema', an Orrizonti competition selection at Venice in 2012; Jean-Jacques Jauffret's 'Après le sud', which screened in the Directors' Fortnight at Cannes in 2011; and Maryam Keshavarz's 'Circumstance', which won an Audience Award at Sundance in 2011.
Awards and Festival History

Festivals


Venice Film Festival 2015, Orizzonti (WP)
BFI London Film Festival 2015
Stockholm Film Festival 2015, Open Zone
FilmFest Hamburg 2015, Kaleidoskop
Dubai International Film Festival 2015, Arabian Nights
LatinArab Film Festival 2015, Arab Features
Hai

Awards


Grand Prize, Festival of African, Asian and Latin American Cinema 2016, Windows on the World Features Films Competition
Contacts