Loving Wallada
Fall Grants 2018 - Post-Production Stage
Current project status: COMPLETED
Synopsis
Wallada, the only child of one of the last Umayyad caliphs, al-Mustakfi murdered in 1025, asserted herself throughout the 11th century as both a poetess and a free woman. The first European woman to hold a literary salon, she surrounded herself with the artistic and the cultured elite of Cordoba of the time. The film is both the portrait of this century, with its contrasts that saw both Ibn Hazm, author of 'Tawk al-Hamama', a manuscript on love and lovers, and the rise of the Andalusian poetry and chant, passing through the influence of Ziryab's school on music, fashion, fragrance and the formation of a refined elite that eventually spread all over al-Andalus and beyond. The film also tells Wallada and the great poet Ibn Zaydun's unhappy love story, while evocating the civil war and the fall of the Umayyad caliphate of al-Andalus.
Credits
Director

Nacer Khemir

Screenwriter

Nacer Khemir

Producer

Nacer Khemir
About the Director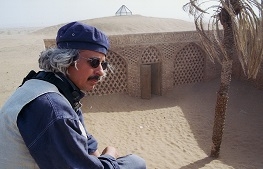 Through cinema, painting and sculpture, not to mention calligraphy, writing and storytelling, Nacer Khemir has thrown bridges between two shores, between the North and the South, the East and the West. His literary work comprises a dozen publications, and his production is still growing. His artistic work was the occasion of many exhibitions, at the Georges Pompidou Center, and the Museum of Modern Art in Paris. He is also writer and producer of many films which won several international awards at festivals all around the world, and has been honoured several times for his artistic work.
Production Company Profile
Wallada Production is a production company for feature and documentary films, created by director Nacer Khemir in 2009 to produce his own films after he co-produced his film 'Bab Aziz, the prince who contemplated his soul' (2005). Wallada Production has produced many documentaries and feature films since its creation, namely; 'En Passant, Avec André Miquel' (2010); 'Sheherazade' (2011); 'Looking for Muhyiddin' (2012/2013); 'Yasmina or the 60 Names of Love' (2014); 'Where to start?' (2015); 'Whispering Sands' (2017). The company is currently producing Nacer Khemir's feature documentary 'Loving Wallada'.
Contacts