Long Day's Journey Into Night
Spring Grants 2018 - Post-Production Stage
Current project status: COMPLETED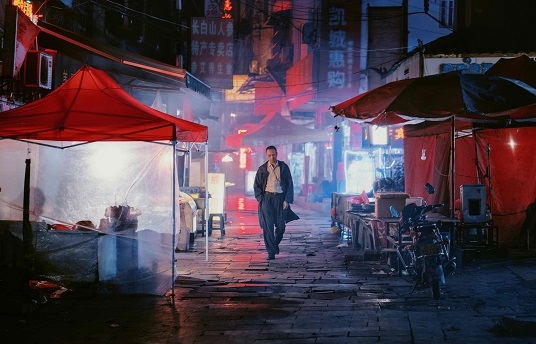 Synopsis
Luo Hongwu returns to Kaili, the hometown from which he fled several years ago. He begins the search for the woman he once loved, and whom he has never been able to forget. She said her name was Wan Qiwen but never revealed her true identity…
Bi Gan's mesmerizing, dream-like Chinese film-noir is a gripping example of cinematic bravery and is sure to take filmgoers breath away.


Credits
Director

Gan BI

Screenwriter

Gan BI

Producer

Shan Zuolong, Charles Gillibert, Xiaonan Li, Guanren Zhang
About the Director
Bi Gan, is a Chinese new auteur, born in 1989. His critically acclaimed debut feature 'Kaili Blues' won the Best Emerging Director Award at the 68th Festival del film Locarno, the Montgolfière d'Or Award at the 37th Festival des 3 Continents, and the Best New Director Award at the 52nd Golden Horse Awards. It was also entered in numerous international film festivals and was sold to several territories. He has just completed his second feature film 'Long Day's Journey into Night', an international co-production between China and France.
Production Company Profile
Dangmai Films (Shanghai) was co-founded by director Bi Gan and his producer Shan Zuolong in July 2016. The two have been working together since their film 'Kaili Blues'. Invested in by one of China's biggest studios, Huace Group, Dangmai Films aims at producing high-quality art-house films with international co-production. 'Long Day's Journey into Night' will be its first production.
Awards and Festival History

Festivals


"Festival de Cannes 2018, Un Certain Regard (WP)
TIFF 2018, Wavelengths
BFI London FF 2018
New York FF 2018
Festival Int'l de Cine de Valdivia 2018 (Chile)
Mumbai FF 2018
Lisbon And Esotril FF 2018
QCinema IFF 2019
San Sebastian IFF 2018
Singapore I

Awards


"Best Cinematography, Best Original Film Score and Best Sound Effects, Golden Horse FF 2018
Special ICS Award, Int'l Cinephile Society Awards 2018
Student Jury Prize, Tokyo FILMex 2018
"
Contacts
Main Contact

Zuolong SHAN

Company:

Dangmai Films(Shanghai) Co., Ltd.

Phone:

+8618667177226

Email:

zuolong@dangmaifilms.com