Lonely Rock
Fall Grants 2019 - Post-Production Stage
Current project status: COMPLETED
Synopsis
Fidel is a fifty-year-old llama herder living in a sparsely populated community in the Argentinian highlands. After a recent increase in puma attacks on his livestock, he sets out into the night in search of the wild animal. Fidel decides to ask the community shaman for a reading, and through the sacred coca leaves he receives the words of the puma; that he has changed his skin and is no longer in this form, that the puma lives in the memory and in the fire. After finding yet another young llama killed on the hillside, Fidel encounters a procession of people carrying a man without a name. They ask him to help bring this anonymous figure to "his departure" higher up in the mountains where a fire burns at the edge of a cliff. As the fire illuminates the night sky, an alchemy of past, present and future unravels.
Credits
Director

Alejandro Telemaco Tarraf

Screenwriter

Alejandro Telémaco Tarraf, Lucas Distéfano

Producer

Alberto Balazs, Alejandro Telémaco Tarraf, INCAA
About the Director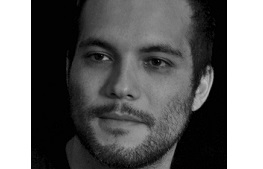 Alejandro Telémaco Tarraf is an Argentine filmmaker. He studied cinema at Buenos Aires University and cinematography at SICA. His work has screened at international film festivals including Rotterdam, BAFICI, Busan, Montreal, and La Habana. In 2014, he was selected for the 9th Buenos Aires Talents programmed by Berlinale Film Festival, and in 2015 he was selected as an audiovisual artist as part of Biennale of Young Artists, Buenos Aires.
Production Company Profile
Founded in 2008, Viento Cine is a film production company based in Buenos Aires, Madrid and London. The producers formed as a collective to share a vision, capturing social and cultural themes through working between the boundaries of documentary and fiction in Argentina, showcasing the range of diverse identities and heritage of the region. Over the years, they have gained international recognition at film festivals including Rotterdam, Montreal, Bafici, Busan, Visions Du Reel, Zinebi, Tampere and La Habana amongst others.
Awards and Festival History

Festivals


IFFR 2020 (WP), Tiger
Contacts