Liyana
Spring Grant 2015 - Production Stage
Current project status: COMPLETED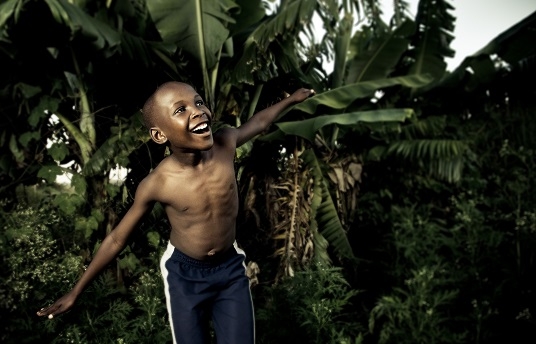 Synopsis
Liyana is a young, fictional girl created by several young orphans in Swaziland, where the scourge of AIDS has ravaged the population, leaving hundreds of thousands of children to fend for themselves. In a storytelling workshop, the youngsters learn to create a central character for their story, then draw on their own – often ghastly and horrifying – true-life experiences to create an exciting adventure for their heroine, which relies on her bravery, cleverness and sheer determination. Over the course of her quest, Liyana and her trusty bull traverse across rivers and mountains, through forest and desert, in search of their goal.
'Liyana' adeptly uses documentary elements to show the gradual building of the story by the enthusiastic children, while at the same time providing a beautifully animated version of the adventure story itself. As we witness the imagining of Liyana's home – a simple mud hut – the fate of her parents, the terror she experiences, and the reason that she must voyage into the mountains, we also see the troubled youth exposing – and banishing – their own fears. This compelling film is a magnificent tribute to creativity, imagination and the healing power of that fundamental human activity: storytelling.
Credits
Director

Aaron Kopp, Amanda Kopp

Producer

Sakheni Dlamini, Aaron Kopp, Amanda Kopp, Daniel Junge

Executive Producer

Thandie Newton, Susan Maclaury, Albie Hecht, Lisa Schejola Akin
About the Director
Aaron Kopp is an award-winning filmmaker and Emmy-nominated cinematographer who grew up in Swaziland. He shot and co-produced 'Saving Face' (2012), an Academy Award-winning documentary about acid attacks in Pakistan, and was also cinematographer for 'The Hunting Ground' (2015), a documentary about sexual assault on college campuses that had its premiere at Sundance. His short film 'Likhaya' (2009) won People's Choice and Best Documentary awards at international festivals. He has worked around the world on films for numerous television outlets, and was awarded a MacArthur Foundation grant for 'Liyana', his upcoming feature-length directorial debut.
Amanda Kopp is an award-winning photographer and artist. She was the producer and cinematographer for the short film 'Likhaya' (2009), which won a Golden Palm, and People's Choice and Best Documentary awards at international festivals. She also shot for 'The Hunting Ground', which premiered at Sundance in 2015. Kopp's work has been published in the UK, the USA, Sweden, Germany, Russia, Pakistan and Italy. Her photographs won the Grand Prize in the Photo District News Top Knots photography competition. She is now co-directing her first feature length documentary, 'Liyana', with funds from a MacArthur Foundation grant.
Production Company Profile
AJK Film is an independent film production company that specialises in international documentary films. Committed to making innovative, cinematic documentaries about the untold stories of heroes and heroines across Africa, the company is centred on the work of Aaron Kopp, an Emmy-nominated cinematographer and award-winning filmmaker who was raised in Swaziland and has worked on films around the globe. We believe well-crafted stories of hope and perseverance can be powerful tools in enacting social change, and that by enchanting viewers with compelling, beautiful characters it is possible to break down prejudice.
Awards and Festival History

Festivals


BFI London Film Festival 2017
Hot Springs Documentary Film Festival 2017
Mill Valley Film Festival 2017
BendFilm Festival 2017

Awards


Grand Jury Award for Best Documentary, Los Angeles Film Festival 2017 (WP)
Jury Award for Artistic Bravery, Durban Int'l Film Festival 2017
Contacts
Production Company

Amanda Kopp & Aaron Kopp (AJK Film LLC)

Company:

Amanda Kopp & Aaron Kopp (AJK Film LLC)

Email:

www.LiyanaFilm.com