Little Palestine, Diary of a Siege
Spring Grants 2019
Synopsis
The district of Yarmouk in Damascus, Syria, sheltered the largest Palestinian refugee camp in the world from 1957 to 2018. When the Syrian revolution broke out, Bashar Al-Assad's regime saw Yarmouk as a refuge of rebels and resistance, besieging the camp from 2013 onwards. Gradually deprived of food, medicine and electricity, Yarmouk was cut off from the rest of the world. Filmmaker Abdallah Al-Khatib was born in Yarmouk, living there until his expulsion by Daesh in 2015. Between 2011 and 2015, he documented the besieged inhabitants' daily lives, who chose to face bombing, displacement and hunger with rallying, study, music, love and joy.
Countless lives were irremediably transformed by the war and siege—from Abdallah's mother, who became a nurse taking care of the elders of the camp, to the fiercest activists whose passion for Palestine became gradually undermined by hunger. Al-Khatib accompanies each increasingly heartbreaking scene with his odic and often incisive view of the situation. Indeed, 'Little Palestine' can be difficult watch to watch at times because of the deeply affecting subject matter—but a rewarding and poignant experience, one that speaks truth to power and is a testament to the resilience of the beleaguered people of Yarmouk.
Credits
Director

Abdallah Al Khateeb

Screenwriter

Abdallah Al-Khatib

Producer

Mohammad Ali Atassi, Jean-Laurent Csinidis
About the Director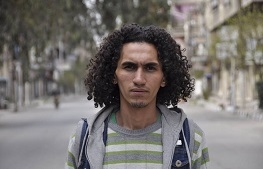 Abdullah Al Khateeb studied sociology at the University of Damascus. Prior to the Syrian revolution, he worked as an activity and volunteer coordinator at UNRWA and was the coordinator of the Youth Support Center in Yarmouk. He founded a social association with friends that is active in the field of humanitarian relief and carries out dozens of projects in several Syrian areas, most notably in the Yarmouk camp. He has participated in directing and filming short films that depict camp life. German magazine Peace Green selected him as a peacemaker in 2014, and he received the Per Anger Human Rights Award in Sweden in 2016.
Awards and Festival History

Festivals


WP ACID, Cannes 2021
Contacts