Liborio
Fall Grants 2019 - Post-Production Stage
Synopsis
Liborio is a peasant who gets lost in a hurricane and takes shelter in a cave. When his township considers him dead, he is found by his son. Awaken, Liborio says he's been given a mission: to bring the good and take away the evil. He begins to cure the sick, to speak the truth and teach by example. People begin to congregate by his side. He moves to the mountains to have total freedom and develop his dream of an independent community. Local authorities offer him weapons in exchange for his loyalty to side with them in the case of political unrest. The US Marines invade the country and want to disarm and disband the community. Liborio wants to avoid a confrontation but knows they can't run forever.
Credits
Director

Fernando Martinez Sosa

Screenwriter

Fernando Martínez Sosa, Pablo Arellano

Producer

Fernando Santos Díaz

Production Company

Balsie Guanabana Macuto
About the Director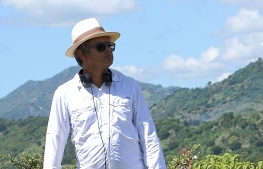 Fernando Martinez Sosa, graduated as a film editor from the EICTV of San Antonio de Los Baños Cuba, later assuming the coordination of the editing department of the school. Then, he moved to Spain where he began a career as an editor working in several awarded and nominated feature films and documentaries such as—'The Hours of the Day', 'Solitary Fragments', and 'Me Too'. He has also taught classes, lectures and conferences in several film schools and art centres. As a director, he approached the Dominican Immigration to the USA in his documentary 'Nena's Window'. 'Liborio' is his first feature film.
Contacts