Land
Fall Grant 2013
Current project status: COMPLETED
Synopsis
The Denetclaws are a Native American family who live on the Prairie Wolf Indian Reservation. News reaches them that Floyd, the youngest son, has died during military service in Afghanistan. The waiting begins to return his body to the reservation to be buried. Wesley, the youngest surviving son, is an alcoholic. His brother's death doesn't really hit him, as his only aim during the day is to get hold of some beer. Wesley is in daily contact with the white population who run the liquor stores right outside the reservation. This already uneasy relationship becomes unpleasant when acts of violence break out and Wesley is directly affected. The eldest son, Raymond, is a recovering alcoholic with a wife and two sons. Although he feels a sense of responsibility for his extended family, he seems to feel too emasculated to do anything about the situation they are in, until the troubles that have affected his two brothers force him to stand up and be a man again.
Credits
Director

Babak Jalali

Screenwriter

Babak Jalali

Producer

Ginevra Elkann, Christophe Audeguis, Arnold Heslenfeld, Julio Chavezmontes
About the Director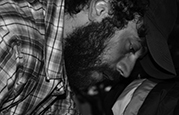 Babak Jalali was born in Iran in 1978, and moved to London at a young age. His graduation film, 'Heydar: An Afghan in Tehran' (2005), was nominated for the BAFTA for Best Short Film. In 2009, he made his debut feature-length film, 'Frontier Blues', with the support of the Festival de Cannes Cinéfondation Residency. It had its premiere in the Official Competition at the Festival del Film Locarno, and won the FIPRESCI Prize for Best Film at the San Francisco International Film Festival. His second feature, 'Radio Dreams' (2016), won the Hivos Tiger Award at the International Film Festival Rotterdam.
Production Company Profile
Asmara Films is a production company established in 2010 by Ginevra Elkann. Our main goal is to foster the projects of young authors coming from anywhere around the world. Our prerogative is to work hand in hand with authors, connecting cinema with art and all domains of contemporary culture. The company is currently in production with Babak Jalali's 'Land', slated for release in 2015.
Awards and Festival History

Festivals


Berlinale 2018 (WP), Panorama

Awards


Jury Prize, Bosphorus FF 2018
Contacts