LABAN: The False Prophets of Johann Sebastian Bach
Spring Grants 2020 - Production Stage
Current project status: PRODUCTION
Synopsis
The French take Lebanon over from the Ottoman Empire and decide to flood a village in order to supply electricity to the new nation. Little do they know of the mess this will bring to the lives of these villagers, the Laban family. In order to survive, Adnan proclaims himself a priest in the monastery, Fawzi decides to join the English southlands, Yussef the village chief, tries to untangle the villagers' knotty family tree—while his daughter, Areej, tries to find her place and identity in all this confusion. The village microcosm will break down into many conflicting pieces—a nightmare that will force the villagers to reexamine their identity and the history that defines them.
Credits
Director

Daniel Joseph

Screenwriter

Daniel Joseph, Ed Woodhouse

Producer

Jessica Khoury, Yohann Comte, Vladimer Katcharava, Julia Wagner
About the Director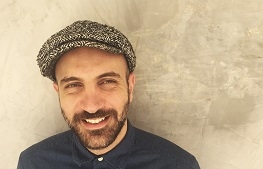 Daniel Joseph is a Lebanese-American filmmaker, photographer and painter. He studied photography and painting at the University of Houston before moving to Los Angeles to study filmmaking at Art Center College of Design. In 2008, Joseph returned to his home country Lebanon where he wrote and directed his first narrative feature film, 'Taxi Ballad', which debuted in competition at the Dubai International Film Festival. Joseph currently resides in Beirut, shooting documentaries, fine art photography, and working on his second feature, 'LABAN: The False Prophets of Johann Sebastian Bach'.
Production Company Profile
Abbout Productions produces feature films and documentaries with a distinctly Arab voice, expressing the identity of the region. Since 1998, the company has managed to bring together an important network of Arab and Lebanese filmmakers and artists and produced award-winning films. Abbout Productions has enabled emerging talents to work with leading industry figures, often collaborates with international partners and receives support from international institutions. It has established close working relationships with leading sales agents and film distributors in Europe and has a strong partnership with MC Distribution, a distribution company dedicated to distributing independent films in the Middle East and North Africa, along with priority access to the sole art house theater in Lebanon, Metropolis Cinema. Abbout is one of the most ambitious production companies in the Middle East. Its main objective remains to help structure the Lebanese and Arab cinema craft into a solid industry.
Contacts
Main Contact

Jessica Khoury

Company:

Film Clinic Indie Distribution

Email:

jessica.khoury@fcidistribution.com