Khmerica
Fall Grants 2021 - Post-Production Stage
Synopsis
Sokha is a Khmer-American. The son of Cambodian refugees, he grew up in the United States. He was deported back to Cambodia seven years ago, where he still feels like a foreigner. Sokha hangs out with a group of "Khmericans" like himself and has married a Cambodian, recently the mother of their new baby. Between the ruins of his past in America and the shaky foundations of his future in Cambodia, he oscillates between two worlds apparently irreconcilable.
Credits
Director

Antoine Guide, Thibaut Amri, Lucas Sénécaut

Screenwriter

Antoine Guide, Thibaut Amri, Lucas Sénécaut

Producer

Rithy Panh

Production Company

Anupheap Productions
About the Director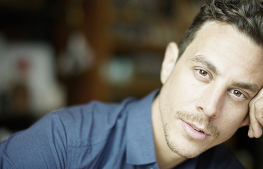 After a master's degree in Business and a master's degree in Geography, Antoine co-created the Annecy Animation OFF Festival in 2010. He then worked as an Audio-visual Cooperation Officer at the French Embassy of Kinshasa in D.R. Congo. In 2014, Antoine took over the management of a French NGO in Cambodia. While in parallel, he created a video production agency in Phnom Penh and directed films for private groups, institutions, and international NGOs. In 2018, he started to co-direct 'Khmerica' with Thibaut Amri and Lucas Sénécaut, a documentary co-produced by Anupheap Production and gained the support of the CNC, the Occitanie Region in France and more recently, the Doha Film Institute. In 2021, he co-founded the production company Avant la Nuit, based in Montpellier, France, and joined the Alpes Film Lab, a training course for young producers linked to the International Film Festival of Torino.
Contacts