Inside Me
Spring Grants 2017 - Production Stage
Current project status: PRODUCTION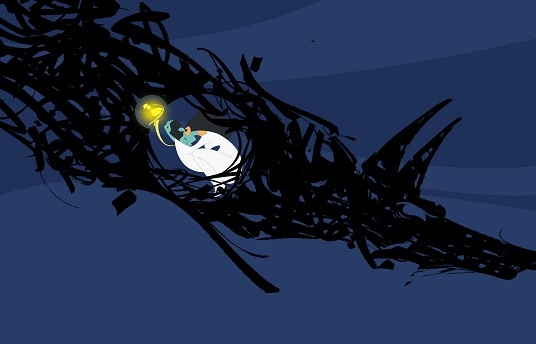 Synopsis
A young Egyptian girl living with a conservative group that follows communal acts and practices has always been silent to blend in. When she dares to speak, to her amazement a yellow letter emerges from her mouth. The group gets angry and does not accept it, so the young girl leaves them to start her own journey to a wide and colourful world. A dark cloud rises from the words of her folk and transforms into a monster that chases her. When she arrives in a new settlement she is encouraged to speak and to be herself. She is happy but still weak. The monster finds her and swallows her, and in its dark stomach she feels lonely and scared. A small letter comes out of her and lights up the darkness. Gradually, the girl regains her strength and begins screaming out illuminating words that destroy the monster. She returns to her new friends, happy and strong, at last unafraid of her individuality and her own voice.
Credits
Director

Halla Tarek

Screenwriter

Julia Urban

Producer

Hussein Hegab, Linda Dedkova
About the Director
Halla Tarek was born in 1989 in Cairo where she studied Animation at the Faculty of Fine Arts. In 2013, she directed the animated film 'Express' which appeared in many festivals in Egypt and elsewhere. In 2015, she obtained her Master's degree with a thesis on black comedy in animated films. Presently, Tarek works as an animation director at the Egyptian Film Centre. Besides working as a director, she freelances in storyboarding and as a concept artist. She believes cinema is the most powerful way to share one's stories.
Production Company Profile
Film Clinic was established by Mohamed Hefzy in 2005 as a film development and production company that produces narrative and documentary features, and also offers screenwriting workshops. While targeting general audiences in Egyptian, regional and international markets, the company has also developed a reputation for supporting young independent filmmakers, and for investing in innovative approaches to film that offer creative alternatives to Egyptian mainstream commercial cinema. Film Clinic has co-produced Egyptian, Arab and international features, and its productions have participated in more than 100 film festivals and won more than 50 awards at festivals including the Abu Dhabi, Cairo, Dubai and Muscat International Film Festivals, the BFI London, Carthage, Montpellier, Oran and Sundance Film Festivals, and the Malmö Arab Film Festival, in addition to national Egyptian festivals.
Contacts
Main Contact

Hussein Hegab

Company:

Entertainment Pictures

Phone:

+201061670192

Email:

husseinhegab@yahoo.com