In Vitro
Fall Grants 2018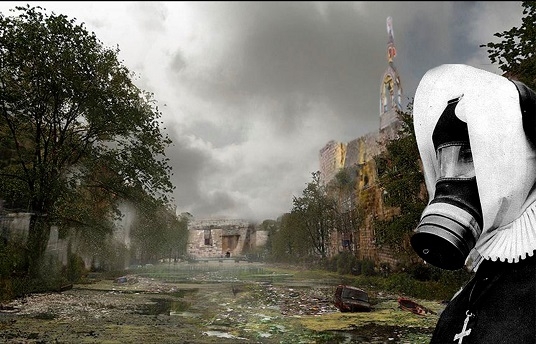 Synopsis
In a converted nuclear reactor, 70-year-old Dunia, the dying founder of a hi-tech orchard, passes on instructions to her younger successor Alia. The aim is to cultivate a replica ecosystem and replant the soil above. As preparations for resurfacing are underway, the intimate dialogue between the two scientists reveals stories of the past, the environmental disaster as well as their personal and collective loss. Alia is born underground as part of a cloning program, an entire generation reborn from the remnants of those lost in the apocalypse. She struggles with her memories, recalling situations and scenes from life above ground, although she has never experienced it. As Dunia's stories from the world before the apocalypse become eerily familiar, Alia becomes intrigued by an early DNA memory encoding program. She starts questioning her origins, forcing Dunia to reveal it to her.
Credits
Director

Larissa Sansour

Screenwriter

Larissa Sansour, Soren Lind

Producer

Palmyre Badinier

Production Company

Akka Films
About the Director
Larissa Sansour is an artist and director born in 1973 in East Jerusalem, Palestine. In her recent works, she uses science fiction to address social and political issues. Working mainly with film, Sansour also produces installations, photos and sculptures.Her work is shown in film festivals and museums worldwide. She has exhibited her work at Tate Modern, MoMA, the Berlinale and BFI London Film Festival. Recent solo exhibitions include 'Bluecoat' in Liverpool, 'Chapter' in Cardiff and 'Nikolaj Kunsthal' in Copenhagen. Sansour currently lives and works in London, UK.
Awards and Festival History

Festivals


Locarno FF 2019 (WP)
Contacts