I, Hummus
Fall Grants 2017 - Development Stage
Current project status: DEVELOPMENT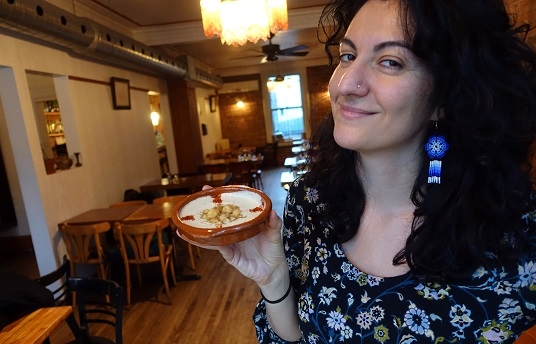 Synopsis
When I landed in Canada in 2006, I became recognized as a giant walking plate of hummus. Being from Lebanon, my identity was intrinsically linked to hummus, and I started to get accustomed to it and represent it to the best of my ability, until one day I was told that hummus is from Israel. This is when I realized how much food matters and how personal and political it can be. A dip into hummus is an invitation into the complexity of the Middle East, the journey of immigration, the problems with cultural appropriation, the economy of the hummus industry, and the rise of food subcultures.
Credits
Director

Rawane Nassif

Screenwriter

Rawane Nassif

Producer

Niam Itani, Lara Abu Saifan, Rawane Nassif
About the Director
Born in Beirut in 1983, Rawane Nassif is a Lebanese-Canadian filmmaker and anthropologist. She works in research and films often addressing subjects such as space, identities, displacement and memory. She collaborated on several documentaries in Lebanon, wrote a book on the politics of memory in the reconstruction of downtown Beirut, worked with immigrants and indigenous people in Canada, conducted visual research on nomadic traditions in Kyrgyzstan, taught anthropological courses in Tajikistan, wrote children's books based on collected oral histories in Honduras and worked as a senior researcher on art films commissioned by the National Museum of Qatar and produced by the Doha Film Institute. Her latest short 'Turtles are Always Home' screened at the Berlinale and TIFF and won international awards including the best new vision short at the San Francisco International Film Festival, and the best experimental at the New Orleans Film Festival.
Production Company Profile
placeless films (aflam bila makan) is a production company run by filmmakers Lara Abu Saifan and Niam Itani in Beirut, Lebanon.The company develops and produces quality short and feature films that bring social and human issues to the fore. Their previous credits include Niam Itani's award-winning short, 'Super.Full.' and Anna Fahr's award-winning short 'Transit Game', as well as Itani's feature documentary 'Twice Upon A Time', which won Best Documentary in the Lebanese Film Festival (2016).
Contacts