Hunting Season
Spring Grant 2014 - Production Stage
Current project status: COMPLETED
Synopsis
After his mother dies, 17-year-old Nahuel is shipped from Buenos Aires to the south of Argentina to live with his estranged father Ernesto, whom he has not seen in over a decade, for the three months until he turns 18. Nahuel's response to the loss of his mother is one of arrogant, sometimes violent defiance; his already troubled relationship with his father leaves them at odds. A hunting guide, Ernesto takes Nahuel out with his team, teaching him how to use a rifle and survive in the wilderness. As the young man learns to fit in with the locals, the rancour between father and son begins to fade and Nahuel comes to understand the intricacies of mature relationships and adult emotions.

Sidestepping the standard tropes of back-to-roots tales, with 'Hunting Season', director Natalia Garagiola takes a city boy to the country, where the familiar – family and teenage excess – are made strange (Ernesto's five rambunctious young daughters in particular are a far cry from what Nahuel is accustomed to). The mountainous expanse of wintry Patagonia proves the perfect locale for coming of age, as Nahuel is faced with death and mourning, love and sorrow, regret and hope.
Credits
Director

Natalia Garagiola

Screenwriter

Natalia Garagiola

Producer

Santiago Gallelli, Benjamín Domenech, Matías Roveda, Gonzalo Tobal
About the Director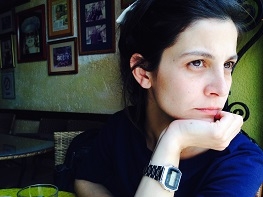 Born in Buenos Aires, Natalia Garagiola graduated from the Universidad del Cine, where she later taught. In 2004, she obtained an MA in Screenwriting from FIA-UIMP in Spain. She also took part in the Experimental Film Lab at the Universidad Di Tella in Buenos Aires. Her videos 'Track' (2007) and 'Square' (2008) were selected for Videoformes Video Art & Digital Cultures. She has written and directed three short films: 'Rincón de López' (2011), released at BAFICI; 'Mares and Parakeets' (2012), which premiered in the Cannes Critics' Week, and 'Sundays', which premiered in the 2014 Cannes Director's Fortnight. 'Hunting Season' is her first feature-length film.
Production Company Profile
Rei Cine was created to provide a creative platform for groundbreaking filmmakers in Buenos Aires. Completed films as main producer include Benjamin Naishtat's 'History of Fear' (2014), Jazmin López's 'Leones' (2012), Adrián Villar Rojas's 'What Fire Brought to Me' (2013) and Gonzalo Tobal's 'Villegas' (2012); all of these were successfully distributed worldwide and selected for major festivals in Berlin, Cannes, Venice, Rotterdam and Locarno, among many others. In 2013, we launched Rei Distribucion, a distribution label based in Argentina. Specialising in tailor-made releases of Latin American films, we handle titles like Dominga Sotomayor's 'Thursday Till Sunday' (2012), Carlos Reygadas's 'Post Tenebras Lux' (2012), and Ana Guevara and Leticia Jorge's 'So Much Water' (2013).
Awards and Festival History

Festivals


San Sebastian 2017, Horizontes Latinos

Awards


SIAE Audience Award, Venice Int'l Critics' Week 2017 (WP)
Contacts
Main Contact

Santiago Gallelli

Company:

Rei Cine

Phone:

+54 11 4555 1077

Email:

distribucion@reicine.com.ar