House in the Fields
Fall Grants 2016
Current project status: COMPLETED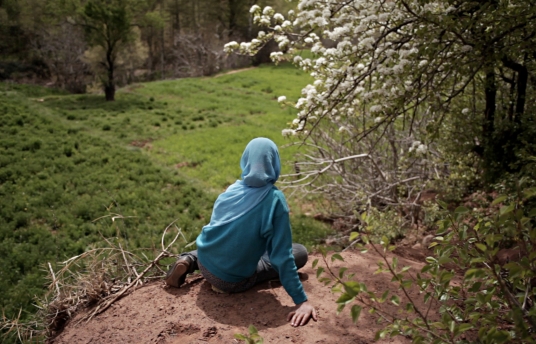 Synopsis
High in the Atlas Mountains in Morocco, life in an isolated rural Amazigh community has changed little over the past millennium. History is passed down the generations orally, transmitted by traditional bards and storytellers. Filmmaker Tala Hadid gained intimate access to this community, as well as their trust, in her quest to document their daily lives in visual form, thereby preserving a moment in a culture that is constantly faced with the rapid changes of the larger society in which it exists.

'House in the Fields' primarily follows two teenage sisters. In a nation that has recently made steps forward in providing equal rights for women, Khadija dreams of becoming a lawyer one day, while her elder sister Fatima has stopped attending school pending her upcoming marriage. A languid camera captures the sisters' conversations as they discuss the possibilities and likelihoods of the future, as we wonder what the impact of social progress will be on centuries of embedded culture. Daily life in the village is mostly a matter of survival, with tending to crops and gathering food being a constant; how do these youngsters hopes for the future mesh with such an apparently simple existence?
Credits
Director

Tala Hadid

Producer

Tala Hadid, Larbi Idmansour

Executive Producer

Joslyn Barnes, Sawsan Asfari, Maya Sanbar
About the Director
Tala Hadid is a photographer and filmmaker who made her first film on Pier Paolo Pasolini. Her films have screened at festivals around the world, including Berlin and Venice and shown, among other venues, at the MoMA and Lincoln Center in NYC, the Walker Arts Center in Minneapolis, La Cinémathèque Française, the Smithsonian Museum and the National Museum of Women in the Arts in Washington D.C. Her films have received numerous awards, including an Oscar for her short film 'Your Dark Hair Ihsan'. Hadid's last project, 'House in the Fields', was an official selection at the Berlin Film Festival, where it was nominated for the Glashütte Documentary Award. The film was the recipient of numerous prizes at festivals around the world. Her work is part of the Ruben Bentsov Moving Image Collection at the Walker Museum, and she is a member of the Academy of Motion Picture Arts and Sciences.
Production Company Profile
Founded by Tala Hadid, Kairos Films is dedicated to developing, producing and marketing original, artistically rigorous, innovative and socially conscious films in Morocco and internationally. The company's first film, 'House in the Fields', was awarded various post-production prizes at the Final Cut in Venice workshop at the 2015 Venice Biennale. Kairos is currently developing its first feature-length film, which it hopes to launch in 2017. Besides its own productions, Kairos will also develop a wide range of high-quality film, visual art and theatre productions in Morocco in collaboration with film professionals and other cultural producers.
Awards and Festival History

Festivals


Berlinale 2017, Forum (WP)
Hot Docs IFF 2017
Viennale IFF 2017
CINEMED 2017
IDFA 2017, Camera in Focus - Best of Fests

Awards


Best Feature Film Award, Cinema Africano, Asia e Latin American in Milano 2017
Best Documentary Award, Hong Kong IFF 2017, Documentary Competition
Grand Prize, Millennium Docs Against Gravity FF 2017
Contacts