Holy Cow
Fall Grant 2013
Synopsis
Tapdig has what seems like a perfectly straightforward wish – to obtain a cow from Europe – for a perfectly logical reason – such a cow will produce more milk than the local Azerbaijani stock. He asks the village elders for their advice, and by implication their blessing, but the response is one bordering on hysteria. A foreign cow will contaminate the traditional values of the village! An animal from elsewhere will bring disease and infect the other livestock! What about the fresh air? Tapdig should be banished from the village for such an affront!

'Holy Cow' brilliantly highlights some of the arguments that so often buttress the many nonsensical claims that accompany xenophobia, overlaying naturalistic settings, sequences and performances with a truly absurd – yet all-encompassing – judgement that is based on the unfounded fear of change. We witness an ordinary man living a simple life, working tirelessly to support his family (scenes involving his young sons are charming beyond words) and devising a way to improve their lot in life, and the contagion of fear that his forward thinking engenders.

As with any good satire, 'Holy Cow' has a target, here the ridiculous lengths people will go to with in order to defend outdated and unproductive traditions. A hugely enjoyable reminder of the dangers of unfounded fear – all the more refreshing in today's climate of exclusionary politics and populist sentiment.
Credits
Director

Imamaddin Hasanov

Screenwriter

Imamaddin Hasanov

Producer

Andra Popescu, Veronlka Janatková, Stefan Kloos

Production Company

Free Art Production, Kloos & Co. Medien, Conset

Production Company

Free Art Production
About the Director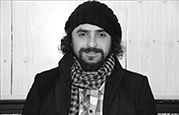 Born in 1980, Imamaddin Hasanov holds a degree in Film and Theatre Directing. He emerged as a director staging several plays in Baku Camera Theatre. In 2006, after a Studio Ateliers Varan Course on Documentary Film in Tbilisi, he started working as a director on several short TV documentaries. His first short observational documentary, 'The Virgin's Happiness or the Invisible Side', is currently in post-production. Through his films, Hasanov sheds lights on the lives of the less privileged, emphasising their internal conflicts in a society that imports values that are not always in accordance with the established local norms.
Awards and Festival History

Festivals


IDFA 2015 (World Premiere)
Contacts
Director

Imamaddin Hasanov

Company:

Free Art

Email:

imam.gasan@gmail.com