HEAdbANG Lullaby
Spring Grants 2016
Synopsis
Casablanca, June 11, 1986 – the day of the World Cup. After yet another blunder, embittered cop Daoud is sent by his dissatisfied superiors to spend the day on a bridge between two warring neighbourhoods in order to protect the hypothetical passage of a royal procession. A prisoner of the bridge, Daoud will be transformed by contact with the inhabitants of both villages. He will learn maturity after spending time with a five-year-old child and a mother who upheld her dignity, despite having had her head shaved by the secret police. This apparently normal day made up of absurd waiting, improbable encounters and brutal poetry takes place under the giant shadow of a messianic monarch whose passage disturbs the delicate balance of a motley population.
Credits
Director

Hcham Lasri

Screenwriter

Hcham Lasri

Producer

Mikael Clouet, Rita El Quessar

Production Company

Pan Production
About the Director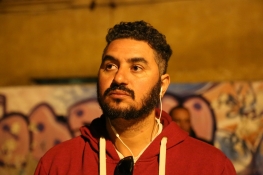 Hicham Lasri is a Moroccan filmmaker born in Casablanca in 1977. He studied economics and law, then wrote plays, novels, and screenplays before turning to film. In 2011, he directed his first feature film, 'The End', which received critical acclaim. In 'They are the Dogs' (2013), he draws parallels between the Arab Spring of 2011 and the 1981 "bread riots" in Morocco, offering a beautiful tour through festivals and numerous critical writings. 'Starve your Dog' (2015) and 'HEAdbANG Lullaby' (2017) were screened in the Panorama and 'Jahilya' (2018) in the Forum sections of the Berlinale.
Awards and Festival History

Festivals


"Berlinale 2017, Forum (WP)
Cinefertil Latin Arab FF 2017
Carthage FF 2017
Festival des Cinémas d'Afrique du Pays d'Apt 2017
Nuremberg Int'l Human Rights FF 2017
AFAC Film Week, September 2018 (Algeria)
Festival Cinémas d'Afrique 2018 (Lausanne)"
Contacts