Guardian Of The Worlds
Spring Grants 2021 - Post-Production Stage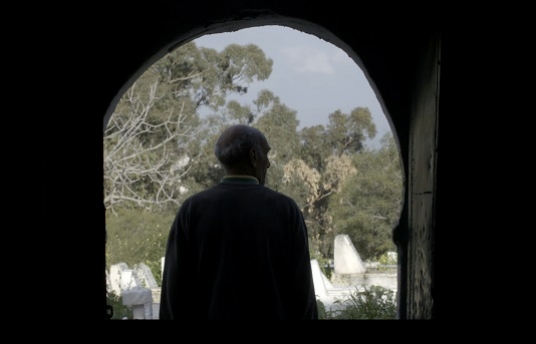 Synopsis
Hassan recalls the first night that Jellaz became his shelter. After burying his parents and two brothers, he rested his head at the foot of their graves, fell into a deep sleep, and felt his soul fly. Forty years later, Hassan is Jellaz's guardian, stationed at the crossroads of two worlds. During the day, we follow Hassan as he greets the dead and living alike and services the space as needed—he gardens, builds, cleans, and helps with burial ceremonies. Sometimes he visits crowded neighbourhood cafés and blends into life among the living. The injustices and misery that he witnesses outside of Jellaz meddle with the joy and hope that he feels every day in his enchanted workspace, home, and eventually, deathbed. And then there is Sabrine. She knows what it's like to live a rough and precarious life, and she too is looking for an earthly companion. As Hassan prepares for his own life after death, he shares with us his notes on mercy, memory, and love.
Credits
Director

Leïla Chaïbi

Screenwriter

Leïla Chaïbi

Producer

L'image d'après, Maud MARTIN, G Prod, Ghazi GHAZOUANI

Production Company

L'image d'après
About the Director
Leila Chaïbi was initially a journalist before she began specialising in documentary filmmaking. After working several years as a cameraperson, she started her career in cinema. She is primarily interested in the question of identity and the Arabic world. 'La Brûlure', her first short documentary, paints the portrait of illegal immigrants who disappeared at sea, while he 'Tous brûlés. La Maison des Hommes' is an inventory of prisons in Tunisia. She later co-directed 'Le Verrou', a film about the magic ritual of the Tasfih that aims to protect young girls. 'Gardien des Mondes' (Guardian of the Worlds) is her second feature film.
Contacts