Ghost Hunting
Spring Grant 2015 - Production Stage
Current project status: COMPLETED
Synopsis
As a result of being jailed in the Shin Bet's Al-Moskobiya investigation centre at the age of 18, director Raed Andoni has fragments of memories he cannot determine as real or imagined. In order to confront the ghosts that haunt him, Andoni decides to try to rebuild that mysterious place. Responding to a job announcement seeking ex-inmates of Al-Moskobiya who have experience in construction, architecture, painting, carpentry and acting, a large group gathers in an empty yard near Ramallah. Together, they start a journey in which they rediscover the shape of their old prison, try to face the consequences of being under absolute control, and attempt to re-enact a story that took place inside the centre's walls.
Credits
Director

Raed Andoni

Producer

Raed Andoni, Saed Andoni, Palmyr Badinier
About the Director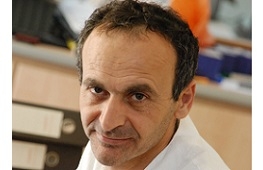 Born in Palestine in 1967, Raed Andoni started his career in cinema as an independent producer in 1998. He cofounded Dar Films, a leading production company, and produced and secured international distribution for a number of Palestinian films. 'Improvisation' (2005), Andoni's first medium-length documentary as a director, was produced in association with ARTE and saw great success at festivals. His first feature-length film, 'Fix Me' (2009), was screened at the Sundance Film Festival and the Festival de Cannes, released in European cinemas, and won several prizes, including the SCAM award for Best Documentary of the Year and the Tanit d'Or for Best Documentary at Carthage Film Festival in 2010.
Production Company Profile
Les Films de Zayna was established in 2008 by Palestinian producer and director Raed Andoni and French producer Palmyre Badinier. Based in Paris, the company develops and produces films with a strong focus on stories and talents from the Arab world.
Awards and Festival History

Festivals


Cinema du Reel 2017, International Competition
FIFDH 2017, Compétition Documentaires de création

Awards


Glashutte Original Documentary and Panorama Dokumente - 3rd Best Documentary Awards, Berlinale 2017 (WP)
Golden Apricot, Yerevan Int'l Film Festival 2017, Documentary Competition
Contacts