Geology of Separation
Fall Grants 2018 - Production Stage
Synopsis
A stranger across the Mediterranean Sea, from south to north to the frozen Alpes. Here we are, spectators of the trial brought against him by Europe and the media. "Who are you, stranger?". 'Geology of Separation' travels through the dislocated territories of migration, those that detach desert from mountains, sky from earth, voices from bodies. For in the beginning, there was the Pangea, then the earth image blew up.
Credits
Director

Yosr Gasmi, Mauro Mazzocchi

Producer

Mauro Mazzocchi

Production Company

L'Argent
About the Director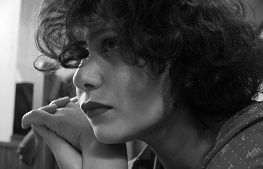 Yosr Gasmi is a Tunisian filmmaker, a post-graduate in French and comparative literature from Paris IV and the ENS of Tunis. A writer, actress and director, she is mainly interested in the image in its various artistic and scriptural expressions. In 2014, she and her partner Mauro Mazzocchi began their first film project 'I Want to Be Mad, Raving Mad - L.E.N.Z.-' (2016). This independent production has been considered by "Nawaat" as the second-best movie made between 2011 and 2017 in Tunisia. 'Geology of Separation' is her second film.
Contacts