Gaza Mon Amour
Spring Grants 2020 - Post-Production Stage
Current project status: COMPLETED
Synopsis
Gaza, today. Sixty-year-old fisherman Issa is secretly in love with Siham, a woman who works as a dressmaker at the market. Finally determined to propose, Issa discovers an ancient statue of Apollo in his fishing net, which he decides to hide at home. When Hamas discovers the existence of this mysterious treasure, troubles begin for Issa. Will he still succeed in professing his love for Siham?
Credits
Director

Tarzan & Arab Nasser

Screenwriter

Tarzan & Arab Nasser

Producer

Rani Massalha, Marie Legrand, Mickael Eckelt, Co-Producers Pandora da Cunha Telles, Pablo Iraola, Rashid Abdelhamid
About the Director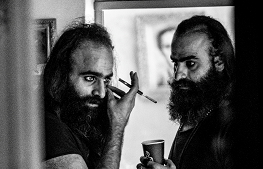 Twin brothers Tarzan and Arab Nasser were born in Gaza, Palestine, in 1988. In 2013, they directed the short film 'Condom Lead' which was selected in official competition at the Cannes Film Festival. In 2014, they directed their first feature film, 'Dégradé', which had its world premiere at Cannes Critics' Week in 2015. 'Gaza Mon Amour' is their second feature film.
وُلِد التوأمان طرزان وعرب ناصر في قطاع غزة في فلسطين عام 1988. أخرج الشقيقان عام 2013 الفيلم القصير "كوندوم ليد" الذي اختير للمشاركة ضمن فعاليات مهرجان كان. وفي عام 2014، أخرج طرزان وعرب أولى أفلامهما الطويلة " Dégradé" الذي عُرِضَ للمرة الأولى في مهرجان كان 2015. سيكون فيلم "حبيبتي غزة" ثاني أعمالهما الطويلة
Production Company Profile
Founded in 2014 by Marie Legrand and Rani Massalha, Paris-based Les Films du Tambour aims at producing independent feature films from all around the world. It produced 'Dégradé' by Arab and Tarzan Nasser (Cannes' Critics Week, 2015), 'Sibel' by Çagla Zencirci and Guillaume Giovanetti (FIPRESCI Prize at the Locarno Film Festival 2017), 'Our Lady of the Nile' by Atiq Rahimi (Crystal Bear at the Berlinale 2020), and is now in post-production of 'Gaza Mon Amour' by Arab and Tarzan Nasser.
Awards and Festival History

Festivals


Venice FF 2020, Orizzonti (WP)

Awards


Netpac Award, TIFF 2020, Discovery
Contacts