Eyes of a Thief
Spring Grant 2013 - Post-Production Stage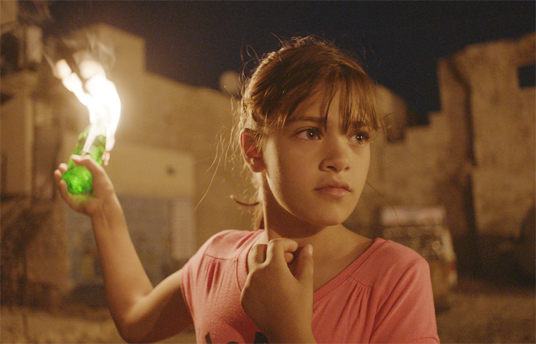 Synopsis
Inspired by real events, 'Eyes of a Thief' is a rare glimpse into Palestinian society from the inside. At the height of the 2002 Palestinian Uprising, Tareq, an enigmatic man bearing fresh wounds, is tended to by local nuns, who help him to escape. He is soon arrested by Israeli soldiers. Ten years later, Tareq is released from prison and returns to his town, a place drastically transformed and filled with secrets, to find his daughter. As secrets are uncovered, Tareq's hidden past is revealed and light is shed on the stifling nature of contemporary Palestinian society. Moral certainty is replaced by questionable choices, and it is clear there are no easy answers.
Credits
Director

Najwa Najjar

Screenwriter

Najwa Najjar

Producer

Hani Kort, Najwa Najjar, Mustafa Orif, Antoine Clermont de Tonnerre

Production Company

Ustura Films, AARC, MACT Films, Oktober Films
About the Director
Writer-director Najwa Najjar holds a BA in political science and economics, and an MA in film from the USA. She has worked in both documentary and fiction filmmaking, and her work includes the award-winning films 'Yasmine's Song' (2005) and 'Naim and Wade'a' (2000). Her debut feature film 'Pomegranates and Myrrh' (2008) won 10 international awards, and was sold and released worldwide. Najjar has spoken on numerous panels on cinema and has been a jury member of several international film festivals. She has written articles on Palestinian cinema and been a reader for Arab writers. Her second feature is currently in development.
Awards and Festival History

Festivals


Brisbane Asia Pacific Film Festival (BAPFF) 2014 , The Colours of Asia Pacific (Australia)
Rio De Janeiro Film Festival 2014, in Expectations (Brazil)
Cairo International Film Festival 2014 (Egypt)
Kolkata Film Festival 2014 (India)
London Palestine

Awards


Won the Best Actor Award for actor Khaled Abol Naga, at Cairo International Film Festival 2014 (Egypt)
Contacts