Dr. Hamood Show
Spring Grant 2014 - Production Stage
Synopsis
Starring Mohammed Al Dosari and Qatari wrestler Ali Al Naimi, 'Dr. Hamood Show' is a 15-episode comedy/reality web series, in which each 15-minute sheds light on some of the social issues common to Qatari youth and in the Arab world, using comedy and sarcasm.
Credits
Director

Ali Faisal Al-Ansari

Producer

Ahmed Al Baker, Mohammed Al Hamadi, Khaled Al Jaber

Production Company

Innovation Films

Production Company

Innovation Films
About the Director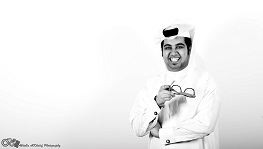 Ali Al Anssari is a media graduate from Bangor University, North Wales. He began practising photography many years ago and has now made the transition to cinematography and directing. Ali directed 'I' in 2012 and 'Qarar' in 2014, and both have been invited to numerous film festivals, and were featured in the Cannes Film Festival's Short Film Corner.
Contacts