Dr. Hamood Show
Spring Grant 2014 - Production Stage
Current project status: COMPLETED
Synopsis
Starring Mohammed Al Dosari and Qatari wrestler Ali Al Naimi, 'Dr. Hamood Show' is a 15-episode comedy/reality web series, in which each 15-minute sheds light on some of the social issues common to Qatari youth and in the Arab world, using comedy and sarcasm.
Credits
Director

Ali Faisal Al-Ansari

Producer

Ahmed Al Baker, Mohammed Al Hamadi, Khaled Al Jaber
About the Director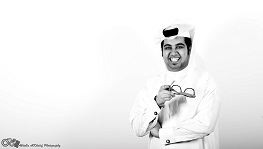 Ali Al Anssari is a media graduate from Bangor University, North Wales. He began practising photography many years ago and has now made the transition to cinematography and directing. Ali directed 'I' in 2012 and 'Qarar' in 2014, and both have been invited to numerous film festivals, and were featured in the Cannes Film Festival's Short Film Corner.
Production Company Profile
Innovation Films is a film and television production company whose main vision is to create a solid film industry that exports world-class filmmaking. Past productions include the feature film 'Lockdown: Red Moon Escape', as well as several successful short films; the company also co-produced the American indie title 'KillCam'. Innovation prides itself on creating and nurturing local talent, both in front of and behind the camera, and most crew members working with Innovation are local film professionals or trainees. We actively contribute to local expertise by having interns shadow industry professionals on set and placing trainees on commercials, and short and feature films. Innovation also conducts scriptwriting, producing and directing classes, and weekly acting workshops overseen by Academy Award nominee Scander Copti.
Contacts