Dona Césaria
Spring Grant 2011 - Development Stage
Synopsis
Césaria Evora is an internationally renowned singer whose voice rings with the culture, ambience and history of the capital city of Mindelo in Cape Verde. These nine islands between desert and ocean are chained to exile, and their singing and music constitute the strongest of emotional testaments. To understand Evora, one must understand her lyrics, her music and her life in Mindelo, where for many years she remained, watching others across the sea… until the day came when she had to leave. Although travelling is a requirement of her profession, Evora always returns to her beloved island.
Credits
Director

Dima Al-Joundi

Screenwriter

Dima Al-Joundi

Producer

Dima Al-Joundi, Christine Pireaux
About the Director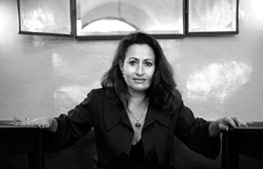 In 1994, Al-Joundi directed and produced her first documentary 'Between us two…Beirut'. She moved to Paris in 1995 where she continued directing documentaries. She then pursued her career in Sri Lanka where she worked as a Producer-Director for Young Asia TV. She is currently based in Beirut.
Contacts