Don't Get Too Comfortable
Fall Grants 2020 - Production Stage
Synopsis
When Shaima Al-Tamimi's paternal grandfather migrated from Yemen to Zanzibar half a century ago to find work, little did he know that migration would continue as a pattern for later generations of his family. Having lived through a deadly revolution in the early 1960s powered by British colonialism, he fled back to Yemen with members of the family, including Shaima's father. Fast forward 55 years and five countries later, she is a member of a generation of Yemenis who have grown up confused, marginalised and deprived of opportunities to thrive due to the limitations of being a Yemeni passport holder even while living outside their homeland. 'Don't Get Too Comfortable' fuses archival images, found footage, parallax animation and sound design to create a multimedia letter to the director's paternal grandfather, reflecting on the migration and resettlement of her family following his death over fifty years ago. Family photos, archival materials, and self-portraits by the director place the viewer in-between time and space, calling attention to the collective feeling of statelessness and sense of being, felt by Yemeni migrants and their descendants. This introspection attempts to heal intergenerational trauma, creating space for a new and more nuanced narrative of Yemeni migration.
Credits
Director

Shaima Al Tamimi

Screenwriter

Shaima Al Tamimi

Producer

Shaima Al Tamimi, Mayar Hamdan
About the Director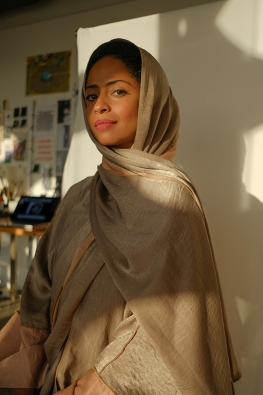 Shaima Al-Tamimi is a Yemeni-Kenyan visual storyteller based in the GCC. Her work explores themes such as migration, identity, and social issues through introspection and a deeply-rooted documentary approach. Using photography, film, audio and writing as mediums, she merges historical and family archives with present-day portraits and visuals to create vivid narratives. Challenging mainstream and linear notions of identity, her work offers unique perspectives into the lives of her subjects and calls for a more nuanced understanding of native experiences. Shaima is a 2020 Social Justice & Photography fellow with Magnum Foundation, which resulted in the multimedia video film 'Don't Get Too comfortable' and a former participant of the Arab Documentary Photography program through which she completed her project 'As If We Never Came' in 2019. She was also one of the forces behind the 2020 global 'Prints for Yemen' sale with Inti Bint, collaborating with 14 Yemeni Female artists to raise funds for farmer families to grow crops sustainably in the rural parts of Yemen. Shaima is also a long-term contributing member to Everyday Middle East.
Contacts