Diamond Island
Spring Grants 2016 - Post-Production Stage
Current project status: COMPLETED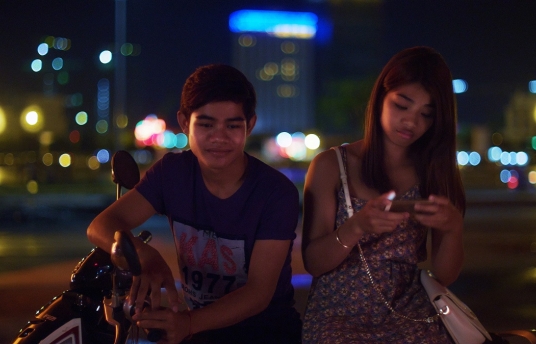 Synopsis
Diamond Island is a symbol of Cambodia's future, a sprawling, ultra-modern paradise for the rich on the river in Phnom Penh. Like many other country boys, 18-year-old Bora is lured from his village to work on the construction of this property developers' dream. There, he forges new friendships and is even reunited with his charismatic older brother Solei, who disappeared five years ago. Solei introduces Bora to the exciting world of Cambodia's privileged urban youth, with its girls, its nightlife and its illusions.
Credits
Director

Davy Chou

Screenwriter

Davy Chou, Claire Maugendre

Producer

Davy Chou, Charlotte Vincent, Olivier Pere, Henneke Van Der Tas, Kavich Neang
About the Director
Davy Chou is a French-Cambodian filmmaker born in 1983. 'Golden Slumbers' (2012), a documentary about the birth of Cambodian cinema in the 1960s, and its destruction by the Khmer Rouge, was his first feature-length film. His short film 'Cambodia 2099' (2014), which takes place entirely on Diamond Island in Phnom Penh, was selected for the Director's Fortnight at the Festival de Cannes. He recently completed the feature-length 'Diamond Island' (2016), which had its premiere in the Critics' Week at the Festival de Cannes, where it won the SACD Award.
Production Company Profile
Aurora Films was founded by Charlotte Vincent in 2002. Since then, Vincent has specialised in making French and international co-productions, including Patric Chiha's 'Domaine' (2009), featuring Beatrice Dalle; Valérie Mréjen and Bertrand Schefer's 'Iris in Bloom' (2011); Leila Kilani's 'On the Edge' (2011); Chiha's 'Boys Like Us' (2014); Evangelia Kranioti's documentary 'Exotica, Erotica, Etc.' (2015); Wissam Charaf's 'Heaven Sent' (2016) aand Davy Chou's 'Diamond Island', Aurora's first Cambodian co-production. Aurora Films invests heavily in developing new talent and promoting debut directors.
Awards and Festival History

Festivals


Busan International Film Festival 2016, A Window on Asian Cinema
Melbourne International Film Festival 2016, Accent on Asia
Filmfest Munchen 2016, International Independents Competition
Milano Film Festival 2016, Feature Film Competition
Festival Inte

Awards


SACD Prize, Cannes Film Festival 2016, Semaine de la Critique (WP)
Grand Prix and Jean Vigo Mention, Festival du Film de Cabourg Film Festival 2016
Contacts