Dar El Malika
Spring Grants 2021 - Development Stage
Synopsis
Because she has only daughters, Malika finds herself homeless and almost destitute after the tragic death of her wealthy husband. Because it is her brother-in-law who inherits all the deceased's property according to Algerian law. Fortunately, there is this old house in the Kasbah where she finds refuge with her family: Dar El Malika. There, from day to day, the mourning is made at the rhythm of the old Algerian city and its inhabitants. Soon, it will not be a question anymore of surviving for Malika and her daughters, but of living!
Credits
Director

Lotfi Bouchouchi, Damien Ounouri, Yasmine Chouikh

Screenwriter

Lotfi Bouchouchi, Teffahi El haouesse

Producer

Lotfi Bouchouchi

Production Company

DS Studio
About the Director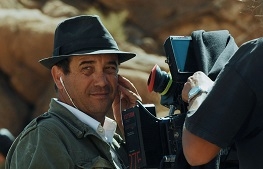 Born in Algiers, Lotfi Bouchouchi graduated from ESEC in Paris. He was first assistant director on the films of Merzak Alouache and Mohamed Chouikh, and then directed documentaries and commercials. In 2014, he directed his first feature film 'Le Puits' which was Algeria's Oscar nomination.
Contacts