Costa Brava, Lebanon
Fall Grants 2018 - Production Stage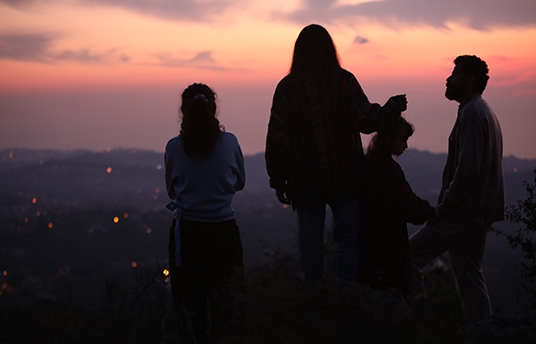 Synopsis
In 'Costa Brava, Lebanon', the free-spirited Badri family escape the overwhelming pollution and social unrest of Beirut by seeking refuge in a utopic mountain home they built for themselves. Unexpectedly, an illegal garbage landfill begins construction right next door, and with it comes the very trash and corruption they were seeking to escape. As the landfill rises, so do family tensions. The Badris are left with a choice—stay off the grid or leave their idyllic home and face the reality they fled, hoping to stay true to their ideals.
Nadine Labaki, whose film 'Capernaum' screened at Ajyal 2018, brilliantly plays Souraya—a well-known singer and activist who toured the world with her music. Her husband, Walid (Saleh Bakri), leads the family to nature and a simpler way of life, but not without sacrifice. The family's escapist fantasy soon begins to unravel, and the external threat to their home dredges up old internal rifts and yearnings that were merely buried by their self-imposed isolation. A confident and compelling feature debut by Mounia Akl, backed by stellar performances, the film is a thoroughly enjoyable family drama and clever political parable all in one.
Credits
Director

Mounia Akl

Screenwriter

Mounia Akl, Clara Roquet

Producer

Myriam Sassine, Georges Schoucair

Executive Producer

Jeff Skoll, Anikah McLaren, Fouad Mikati, Candice Abela Mikati, Karam Abulhusn, Monique Dib, Lara El Khoury, Elie Tabet, Harriet Harper Jones

Production Company

Abbout Productions

Production Company

Abbout Productions
About the Director
Mounia Akl is an award-winning Lebanese filmmaker. Her short film, 'Submarine' (2016), was in the Official Selection of the 69th Cannes Film Festival (Cinéfondation), SXSW, TIFF and Dubai Film Festival, where it won the Muhr Jury Prize. In 2017, Mounia took part in the Lebanon Factory and co-directed the short film 'El Gran Libano', which opened Cannes Directors' Fortnight and screened at BFI London. 'Costa Brava, Lebanon' was developed during the Cannes' Cinéfondation Residency. Mounia is currently developing new projects in both TV and film, one of which being her second feature film.
Contacts