Costa Brava Lebanon
Fall Grants 2018 - Production Stage
Current project status: PRODUCTION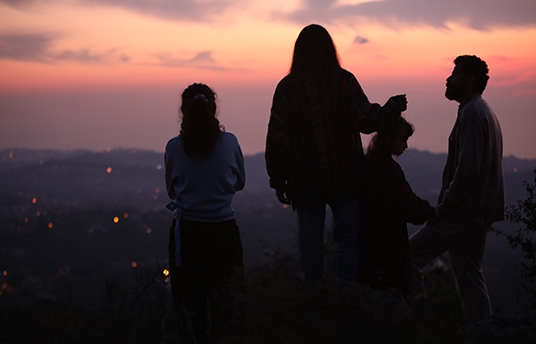 Synopsis
The free-spirited Badri family have escaped the toxic pollution of Beirut by seeking refuge in the utopic mountain home they have built. But unexpectedly, a garbage landfill is built right outside their fence, bringing the trash and corruption of a whole country to their doorstep. As the trash rises, so do tensions between leaving or resisting—threatening their idyllic home and family unity.
Credits
Director

Mounia Akl

Screenwriter

Mounia Akl, Clara Roquet

Producer

Georges Schoucair, Myriam Sassine
About the Director
Mounia Akl is a Lebanese filmmaker with an architecture degree and a master's degree in directing and screenwriting from Columbia University, New York. In 2016, her short film 'Submarine' was presented in the official selection at the Cannes Film Festival (Cinéfondation) and was selected to compete at the festivals of Toronto and Dubai. In 2017, 'El Gran Libano' which she co-directed with Neto Villalobos screened at Cannes Directors' Fortnight part of Lebanon Factory. She also directed an episode of the series 'Do Not Disturb' produced by Jude Law. Her first feature film, 'Costa Brava Lebanon', was selected for Cinéfondation in Cannes 2018, Torino Film Lab 2018 (Pitch Award), for the Sundance Lab 2019 and the Tribeca Film Network 2020.
Production Company Profile
Abbout Productions produces feature films and documentaries with a distinctly Arab voice, expressing the identity of the region. Since 1998, the company has managed to bring together an important network of Arab and Lebanese artists, and produced award-winning films such as Joana Hadjithomas and Khalil Joreige's 'A Perfect Day' (2005), 'I Want to See' (2008), 'The Lebanese Rocket Society' (2012) and 'Memory Box' (2020); Ghassan Salhab's 'The Last Man' (2006) and 'The Valley' (2014); Georges Hashem's 'Stray Bullet' (2010); Mohamad Malas's 'Ladder to Damascus' (2013); Vatche Boulghourjian's 'Tramontane' (2016); Rana Eid's 'Panoptic' (2017); Mohamed Siam's 'Amal' (2017); Oualid Mouannes' '1982' (2019), Ahmad Ghossein's 'All This Victory' (2019). The company's main objective remains to help structure Lebanese and Arab cinema craft into a solid industry.
Contacts
Main Contact

Myriam Sassine

Company:

Abbout Productions

Phone:

01587824

Email:

myriam@abboutproductions.com