Companions of the White Arc
Fall Grants 2020 - Production Stage
Synopsis
After conquering the majestic seven summits and the South Pole in 2014, Moe Al Thani is on his way to the North Pole to earn mountaineering's coveted "Grand Slam" title. This is the last leg of a long and arduous journey and will make Moe one of only 50 people in history, and the first Qatari, to ever achieve this incredible feat. This film, however, goes beyond the Grand Slam—it is a tale of evolution, transformation and finding truth. The call of the Mountain was a life changer for Moe and allowed him to grow and become the person he is today, with newfound perspectives and values. We are but the sum of our experiences and Moe's experiences have so far been extraordinary. From inspiration to summit, from summit to adventure, and from adventure to inspiring others, we learn all about the core values our protagonist has gained and strongly lives by today—the impact of purpose, the drive of passion, the strength of belief, the virtue of patience, the hold of persistence, the radiance of humility, and the joy of appreciation. Moe's story is one of defiance, grit and motivation.
Credits
Director

Elia Youssef, Mohammed Al Thani

Screenwriter

Elia Youssef

Producer

Ghouna Jaber
About the Director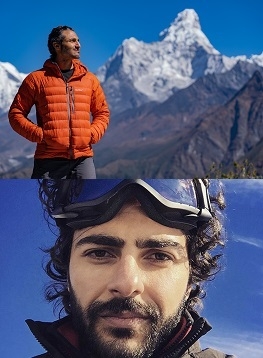 Elia Youssef is a multi-award-winning, Lebanese filmmaker that strives to create groundbreaking documentaries which push through cultural boundaries. This mindset continues to fuel his desire to create thought-provoking work that touches the soul of humanity. Elia is a firm believer in the resurgence of nonfiction storytelling. He utilizes all the available tools of his trade to convey to audiences that truth is often stranger and more entertaining than fiction. This is very evident in his 2016 documentary film, 'The Seventh Summit', which won Elia numerous awards and international recognition.
Moe Al Thani is a Qatari entrepreneur / mountaineer / philanthropist / photographer / sportsman and co-founder of the travel portal Musafir.com, who set himself a dedicated mission to push his limits by scaling the Seven Highest Summits of the Seven Continents of the World.
Contacts