Ceuta's Gate
Fall Grants 2017
Synopsis
Ceuta's Gate is a series of reconstructed situations based on observations made on the border of Ceuta, a Spanish enclave on Moroccan soil. Thousands of people cross the border every day, an endless ballet of migration and the trafficking of manufactured goods to be sold at discounted prices. The film focuses on the larger political and economic tensions that arise in such a small territory that has become a gateway between Africa and Europe.
Credits
Director

Randa Maroufi

Screenwriter

Randa Maroufi

Producer

Sophie Penson, Saïd Hamich Benlarbi

Production Company

Barney Production

Production Company

Barney Production
About the Director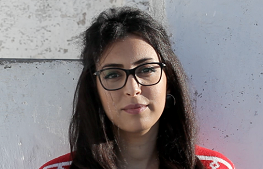 Randa Maroufi was born in Casablanca, Morocco. She is a Fine Arts graduate at Tetouan (Morocco), Angers (France) and Le Fresnoy (France). Randa Maroufi belongs to this generation that grew up in an era dominated by images. She collects them with as much eagerness as suspicion, and ceaselessly questions their veracity. She prefers to put her ambiguous fictions in the service of reality, and the field of her experimentation encompasses the occupation of public space and gender issues, of which she highlights the founding mechanisms.
Awards and Festival History

Festivals


"Fid Marseille 2019 (WP)
CINEMED 2019
Festival DOK Leipzig 2019
Rencontres Films Femmes Méditerranée 2019 (France)
IFFR 2020, Bright Future
Clermont-Ferrand Short FF 2020
Panorama des Cinémas du Maghreb et du Moyen-Orient 2020
Kurzfilmwoche Regensburg 20

Awards


"Grand Prize, Int'l Kurzfilmtage Winterhur FF 2019
Grand Prix, Tampere IFF 2020"
Contacts