Ceuta's Gate
Fall Grants 2017 - Production Stage
Current project status: COMPLETED
Synopsis
Ceuta is a Spanish enclave on Moroccan soil. It has, since the independence of the country, witnessed trafficking in manufactured goods. These goods are transported on foot from one side of the frontier to the other, exempted from taxation, and sold in the cities of Northern Morocco. Through a continuous camera movement, we discover this "atypical trade" – a smuggling activity in the area in which the protagonists are busy with their tasks, thus revealing this incessant carousel that animates the city of Ceuta. The film invites us to feel for a moment the strange reality of the city. 
Credits
Director

Randa Maroufi

Screenwriter

Randa Maroufi

Producer

Sophie Penson
About the Director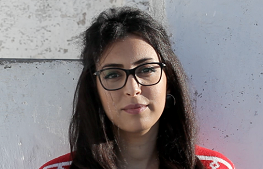 Randa Maroufi was born in 1987 in Casablanca, Morocco. She is a Fine Arts graduate from Tetouan (Morocco), Angers (France) and Le Fresnoy (France). Her multi-disciplinary practice is rooted in political issues with a primary concern in gender studies. Her work primarily takes the form of film, photography, performance and sound. It has been presented at major contemporary art events such as the Marrakech Biennale, the Videonale Bonn and film festivals such as the International Film Festival Rotterdam, Clermont-Ferrand International Short Film Festival, New Directors / New Films at the MOMA in New York, etc. Her graduation film 'Le Park' (2015) has received more than 20 awards.
Production Company Profile
Barney Production is an independent company created in 2010 by Saïd Hamich. In 2012, the company received the Jean-Luc Lagardère Foundation Grant for Film Producers. With the ambition of developing auteur cinema, Barney Production has already produced 14 short films, and also co-produced Nabil Ayouch's 'Much Loved' (2014), Faouzi Bensaïdi's 'Volubilis' (2017) and Walid Mattar's 'Northern Wind' (2017). The company is currently working on four short films and developing several feature-length films.
Contacts