Cactus Flower
Fall Grant 2015 - Production Stage
Current project status: COMPLETED
Synopsis
Aida, a struggling actress, came to Cairo from the Delta as a university student; like many others, she stayed on in the city. One night, she and her neighbour Samiha, a fading bourgeois beauty, are kicked out on the street. With no money and nowhere to go, the two women, aided by Yassin, a street-savvy youth, embark on a labyrinthine journey across physically and mentally difficult terrain. Amid the funny and at times disastrous turns their journey takes, they move along parallel journeys of self-discovery. An extraordinary friendship grows among the unlikely trio, like a delicate flower blooming from a thorny cactus.
Credits
Director

Hala Elkoussy

Screenwriter

Hala Elkoussy

Producer

Houssam Elouan
About the Director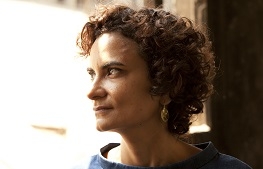 Hala Elkoussy was born in Cairo in 1974. She studied at the American University before completing an MA in Image and Communication at Goldsmiths College, University of London, in 2002. In 2006, she completed a two-year residency at the Rijksakademie Van Beeldende Kunsten in Amsterdam. In 2010, Elkoussy was a recipient of the Abraaj Capital Art Prize, the largest monetary prize in the world granted to a visual artist. Elkoussy's work delves into the intimate and overlooked elements of communal living to highlight the dynamics at play within the complex urban structure that is Cairo.
Production Company Profile
Transit Films is an independent, Cairo-based production company established by producer Hossam Elouan. The company specialises in producing Egyptian and Arab art-house films that have the potential to break into the international film market. Transit Films focuses as well on fresh, new talent who can become a source of innovation both for the film industry as well as for alternative cinemas in Egypt. Transit Films recently came on board with Sherif Elbandary's 'Ali, the Goat and Ibrahim' (2016), written by Ibrahim El Batout and Ahmed Amer; Hala Elkoussy's 'Cactus Flower'; and Khaled Hafez's 'All Time Idlers'.
Awards and Festival History

Festivals


Rotterdam International Film Festival 2017, Bright Future Award Competition (WP)
MOOOV Film Festival 2017, Discovery
Contacts
Main Contact

Hossam Elouan

Company:

Transit Films

Phone:

+201 605 287 32

Email:

hossamelouan@gmail.com