Bombay Rose
Spring Grant 2014 - Production Stage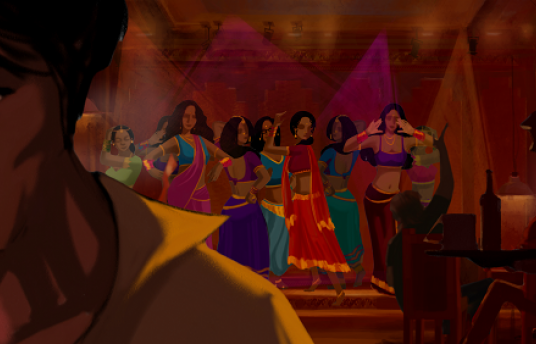 Synopsis
Escaping from child marriage, Kamala makes flower garlands to sell on the streets of Bombay during the day, and at night works as a "dancer". Desperately wishing to keep her little sister Tara away from the harsh life she leads, she uses her meagre earnings and those of her watchmaker grandfather to pay for school for the young girl. A chance encounter with Salim, the boy from across the street, offers hope of a better life for Kamala—who now must choose between fending for her family and finding true love.

Woven delicately through music, a red rose brings together other similar such tales of seemingly impossible love.With each frame meticulously handcrafted, Gitankali Rao's debut feature is a commendably realised work of animated filmmaking. Based on true events, 'Bombay Rose' is a chronicle of intimate yet collective struggles of people who migrate from small towns, seeking a life in the often-unforgiving city. The film explores the ruthlessness of a society where the love and life that prevails on the big screen can crush you in its mean streets. Painted frame by frame, the depiction of urban reality has a documentary style, whereas the intricate dream worlds are inspired by the rich and varied folk art styles of India.
Credits
Director

Gitanjali Rao

Screenwriter

Gitanjali Rao

Producer

Rohit Khattar, Anand Mahindra

Executive Producer

Deborah Sathe, Tessa Inkelaar

Production Company

Cinestaan Film Company, Les Films d'ici, Goldfinch Entertainment
About the Director
Gitanjali Rao is the writer and director of 'Bombay Rose', an animated feature film supported by DFI that won seven awards, including the Silver Hugo at the 53rd Chicago Intl Film Fest and had its MENA premiere at Ajyal in 2019. Gitanjali emerged on the international stage with the animated short film 'Printed Rainbow', which premièred and won three awards at Cannes Critics Week, 2006. The film also made it to the Oscar shortlist in 2008 and won 25 awards. A self-taught animator and filmmaker, Gitanjali has independently produced seven animated short films which have been to over 150 International film festivals and received more than 30 awards.
Contacts
Main Contact

Serge Lalou

Company:

Les Films d'Ici Méditerranée

Phone:

+33144522323

Email:

contact@filmsdicimediterranee.fr