Big Boys Don't Cry
Spring Grants 2020 - Development Stage
Current project status: DEVELOPMENT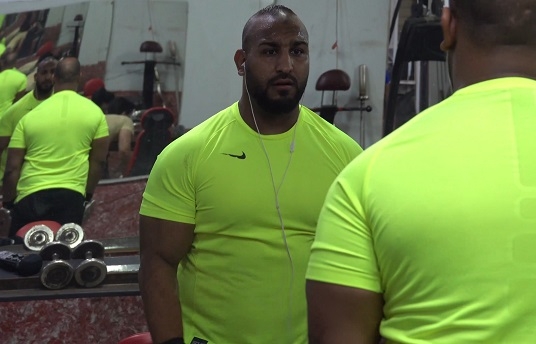 Synopsis
Yehia, a 35-year-old bodyguard, embodies a hyper-masculine image of power and violence. After his release from prison, he wants to be there for his wife and twin boys. He quits illegal business and works as a bouncer; a service-oriented security job that requires him to control his inherent anger. He pursues an acting career but is always stereotyped and cast as a background actor. But not anymore when he is approached by Mustapha, a 27-year-old filmmaker, who wants to film him—an opportunity. The proposed film gives him his sixty seconds of fame. He knows Mustapha intends to make "something raw". Playing himself for the camera, he's ready to give him that. But he's the star who controls the show, or so he thinks. 'Big Boys Don't Cry' is a cinema verité film that includes both the story and the form through which it's told in its narrative structure. It paints a portrait of its protagonist, as he constructs his masculine identity, performs it, and hides his vulnerability behind it. This is brought to screen through the filmmaking process itself, and dynamics between him and the filmmaker who observes, interacts with him, and reflects on himself as a doubtful filmmaker, and as an insecure man.
Credits
Director

Muhammad Mustapha

Screenwriter

Muhammad Mustapha

Producer

Philipp M. Raube
About the Director
Muhammad Mustapha is a filmmaker based in Cairo. Since 2011, he has taken a multidisciplinary approach towards filmmaking—working as a director, scriptwriter, editor, assistant director, and line producer on several short films, features, and documentaries. In 2015, he made the observational cinema-verite documentary 'Tashkeel', which was co-produced between Cimatheque Cairo and Ateliers Varans. His debut feature documentary 'Big Boys Don't Cry', which is currently in development, won the Film Prize of the Robert Bosch Stiftung in 2020.
Production Company Profile
Die Neue Lux is a German-based film production company with the mission to create stories for the Pan-European market and international audiences. Founder Philipp Maurice Raube was studying international production at the well-known Filmakademie Baden-Württemberg, with the vision to produce authentic and socially relevant films with a distinctive voice, for these markets. The films which are produced under the umbrella of Die Neue Lux have received most of the German national and local film funds like MFG, MBB, Filmstiftung NRW and have a good connection into the German broadcasting landscape.
Contacts