Beauty and the Dogs
Fall Grants 2016
Current project status: COMPLETED
Synopsis
Mariam wants to have a nice night out, so she takes to the dancefloor at the benefit she has organised. She makes friends with Youssef, and they go for a walk. Then, she is savagely attacked by some policemen. Despite the trauma she has experienced, she is determined to obtain the medical certificate needed to sue her attackers. With this goal in mind, she finds herself in the absurd and exasperating situation of needing to obtain documentation for her case.

It seems no one, from doctors and nurses to police officers and cab drivers, has any sympathy for another person who is in distress; neither are they willing to show her the simplest kindness. Mariam cannot even go home: she has lost her purse, Youssef has no cash, and besides, the curfew of the dorm where she lives has come and gone.

'Beauty and the Dogs' is a deeply moving tale of a woman who, in the most undignified of situations, insists on maintaining her dignity and demanding some of humanity's most basic rights: the right to be heard, to expose the truth, and to see justice served.
Credits
Director

Kaouther Ben Hania

Screenwriter

Kaouther Ben Hania

Producer

Habib Attia, Nadim Cheikhrouha
About the Director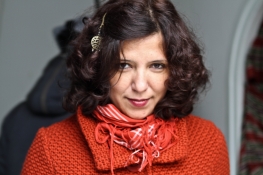 Tunisian director Kaouther Ben Hania studied cinema in Tunisia and in Paris at La Fémis and the Sorbonne. She has directed several short films, including 'Wooden Hand' (2013), which had a lengthy and successful run on the international festival circuit. Her documentary film 'Imams Go to School' had its premiere at the International Documentary Festival Amsterdam in 2010 and was selected for numerous prestigious film festivals. 'Challat of Tunis', her first feature film, opened the ACID section of the Festival de Cannes in 2014. Her most recent film, 'Zaineb Hates the Snow', shot over years in Canada and Tunisia, premiered in the Official Selection of the Festival del Film Locarno in 2016, won a Golden Tanit at the Carthage Film Festival, and was named Best Documentary at Cinémed.
Production Company Profile
Since 1983, CINETELEFILMS has been one of the leading production companies in Tunisia and The Arab World by producing some of the biggest blockbusters in Tunisian and Arab cinema such as MAN OF ASHES, SILENCE OF THE PALACE, HALFAOUINE… Habib ATTIA, its managing director since 2007, produces narrative and documentary films dealing firstly with contemporary sociocultural issues. His latest ventures as main producer include 'We Could Be Heroes' (2018) premièred in HOTDOCS winning the Best international documentary award, 'Beauty and The Dogs' (2017) that premièred in Cannes UN CERTAIN REGARD official selection winning the Best sound creation award, 'Writing on Snow' (2017) opening film in Carthage Film Festival, 'Zaineb Hates the Snow' (2016), which premièred in Locarno and won Golden Tanit in Carthage Film Festival, 'Challat of Tunis' (2014), which opened the Acid Programme in Cannes Film Festival, won the Best First Film award in FIFF Namur.
Paris-based Tanit Films was founded in April 2014 by Franco-Tunisian producer Nadim Cheikhrouha. Tanit Films is the culmination of over twenty years of experience in the film industry. Through Tanit Films, Nadim has helped bring to life some of the most acclaimed and important films to come out of the Arab and African world in recent years including 'Hedi' and 'WeldI' (Dir: Mohamed Ben Attia), 'Fatima' (Dir: Philippe Faucon), 'Burning Hope' (Dir: Lotfi Achour) and 'Beauty and the Dogs' (Dir: Kaouther Ben Henia).
Awards and Festival History

Festivals


Cannes FF 2017, Un Certain Regard (WP)
Sarajevo FF 2017, SFF Partner Presents
BFI London FF 2017
Busan IFF 2017, Flash Forward

Awards


"Best Director of Photography Award (Johan Holmquist) and Best Screenwriter, Malmo Arab FF 2017, Opening Film
Cineuropa Prize, CENEMAMED 2017 (Brussels Mediterranean FF)
Best Actress (Mariam Al Ferjani), Arab Cinema Center Critics' Awards 2018
Tunisia's O
Contacts