Batata
Spring Grant 2015
Current project status: COMPLETED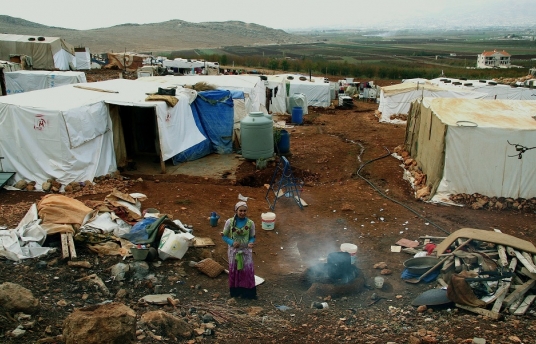 Synopsis
Shot over an unparalleled ten years, the latest film by Lebanese-Syrian director Noura Kevorkian ('23 Kilometres', 2015) follows the plight of Maria and her family of Syrian migrant workers who, after toiling for decades in Lebanon's fertile Bekaa valley, find themselves unable to return to their hometown of Raqqa Syria. Unique among other refugee stories to date, Kevorkian's intimate camera captures an entire decade of marriages, births, and deaths. All the while documenting not just the age-old conflict between Syria and Lebanon—but more importantly, the unbending spirit of a woman who puts family ahead of all else.
Credits
Director

Noura Kevorkian

Producer

Noura Kevorkian, Paul Scherzer
About the Director
Noura Kevorkian is a Lebanese-Syrian-Armenian filmmaker. She made her filmmaking debut with the multi-award-winning short 'Veils Uncovered' (Official Competition IDFA), followed by the feature documentary 'Anjar: Flowers, Goats and Heroes', and the drama-doc hybrid film '23 Kilometres' (Official Competition Karlovy Vary). Inspired by the stories she collected over the years while filming her latest feature documentary 'Batata', Noura is writing her first dramatic screenplay about two teenagers who fall in love in a refugee camp.
Production Company Profile
Founded by Noura Kevorkian, Saaren Films is a film, TV and documentary production company that focuses on stories from the Middle East—co-producing projects with Lebanon, the UAE, Qatar as well as other companies in Canada. To date, Saaren has produced several award-winning films, including 'Veils Uncovered' (Sales: CBC, Sundance Channel; Fests: Official Competition IDFA, winner Golden Sheaf Yorkton), and the documentary 'Anjar: Flowers, Goats & Heroes' (Sales: Rogers / OMNI; Fests: MED Film Festival Rome). Saaren's first foray into drama is the doc-hybrid feature '23 Kilometres' about the final days of a man with late-stage Parkinson's disease (Sales: Sundance Channel; Fests: Official Competition Karlovy Vary, Dubai International, Munich). Saaren's current slate includes a feature drama in development with Telefilm and Ontario Creates, as well as new documentaries, including the epic 'Batata' that follows ten years in the life of a headstrong, unmarried Syrian refugee woman.
Contacts