Batata
Spring Grant 2015 - Production Stage
Current project status: COMPLETED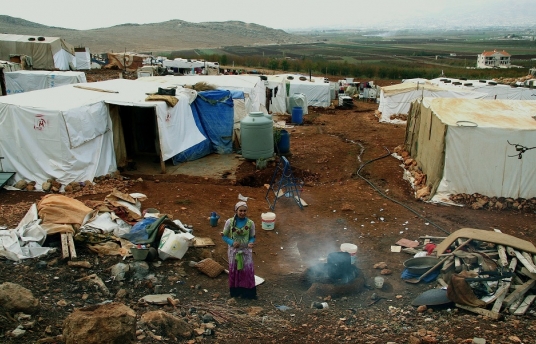 Synopsis
The story of 'Batata' starts in the year 2009, in the beautiful fields of Lebanon's Beqaa Valley, where colourfully dressed Syrian migrant workers plant and harvest potatoes. Through Maria, the main subject of the film, we meet her extended migrant worker family and experience the rhythm of their daily lives. With every potato-planting season, political events affect their lives. But when the Syrian revolution begins in March 2011, everything changes. The story takes a darker turn as the civil war accelerates and the crisis intensifies, with hundreds of thousands of refugees flooding into Lebanon. The tent villages soon grow into tent cities, and the future for Maria and her countrymen looks ever bleaker. Shot over an astounding eight years, this epic documentary offers for the first time a view into the life of a strong, charismatic Syrian woman set against the backdrop of war and refugees.
Credits
Director

Noura Kevorkian

Producer

Noura Kevorkian, Paul Scherzer
About the Director
Noura Kevorkian is a Lebanese-Canadian filmmaker. Along with her film studies, Kevorkian holds a Bachelor's degree from the University of Toronto, specialising in Economics and Middle East Studies. She made her filmmaking debut with the multi-award winning short 'Veils Uncovered' (2002), which was followed by her feature-length debut 'ANJAR: Flowers, Goats and Heroes' (2009). Her '23 Kilometres' (2015) was selected for the Official Competition at the Karlovy Vary International Film Festival. Kevorkian is currently directing 'Batata', her second feature-length documentary.
Production Company Profile
Based in Toronto and founded by Noura Kevorkian, Saaren Films has produced several award-winning feature and short documentary films, including Kevorkian's 'ANJAR: Flowers, Goats and Heroes' (2009), and 'Veils Uncovered' (2002). Saaren mostly works with Arab filmmakers and routinely co-produces with companies in Canada and Lebanon. The company's latest production is Kevorkian's '23 Kilometres' (2015), an Official Competition entry in the Karlovy Vary International Film Festival. Saaren's slate currently includes the feature-length documentary 'Batata', as well as several other films at various stages of development.
Six Island is a Toronto-based independent film, television and digital media production company that specialises in internationally appealing drama, comedy, documentary, and transmedia. Founded by producer Paul Scherzer in 1998, Six Island has produced numerous award-winning feature-length films, among them Kaouther Ben Hania's 'Challatt of Tunis', Asghar Massombagi's 'Khaled' (2001), Jennifer Baichwal's 'Manufactured Landscapes' (2006), Simon El Habre's 'Gate #5' (2011), and Noura Kevorkian's 'ANJAR: Flowers, Goats and Heroes' (2009).
Contacts