Baby Mine
Fall Grant 2014 - Production Stage
Synopsis
When a Middle Eastern man kidnaps his sickly daughter, her mother recruits a dubious neighbour to hunt them down. With the child's life hanging in the balance, a greater danger reveals itself.

'Baby Mine' is a high-stakes, atmospheric thriller inspired by true events. It is a gripping story that will challenge and deceive expectations.
Credits
Director

Nour Wazzi

Screenwriter

Shirine Best, Ellie Emptage, Nour Wazzi

Producer

Kyran Speirs, Andrew Ornitharis, Shirine Best, Nour Wazzi

Production Company

Panacea Productions

Production Company

Panacea Productions
About the Director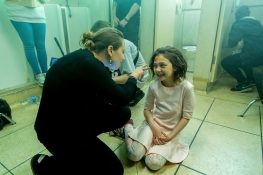 Tipped as a future star on BBC's talent hotlist, award-winning filmmaker Nour Wazzi has worked in the industry for over ten years, collaborating on and developing short and feature-length films. She has won awards for a number of shorts, including 'Up on the Roof' (2013) which premiered at the BFI London Film Festival, was selected at over 30 festivals and named Best Short Film at the Naoussa International Film Festival. She has also won Best Foreign Short at the Mexico International Film Festival, where her short 'Shackled' starring Emilia Clarke ('Game of Thrones'), took the Golden Palm for Best Short Film in 2012. Based on a story by Academy Award nominee Ari Folman ('Waltz with Bashir'), 'Habibti' (2010) starring Hiam Abbass ('The Visitor') and Yasmine Al Massri ('Caramel'), was selected for more than 40 international festivals, won five awards and was broadcast on the BBC in 2012. Most recently, Nour directed two episodes of the BBC short film series 'The Break'. She is currently co-writing her debut feature-length film, based on her recent short thriller, 'Baby Mine' (2016) starring Alexander Siddig ('Kingdom of Heaven').
Contacts