Ayouni
Fall Grants 2017 - Production Stage
Synopsis
Bassel was a successful open source developer and hacker in Damascus. Paolo was a well-known priest based in Mar Musa monastery. Both men were active in the 2011 revolution, and witnesses to crimes before they were forcibly disappeared. 'Ayouni' follows these two high-profile figures of the Syrian revolution and asks how to rebuild a country when its civil society has been disappeared, killed and scattered across continents. Much like archaeologists, we are left to dig through the dirt in the hope of finding mere fragments of the truth.
Credits
Director

Yasmin Fedda

Screenwriter

Yasmin Fedda

Producer

Hugh Hartford, Elhum Shakerifar

Production Company

Hakawati
About the Director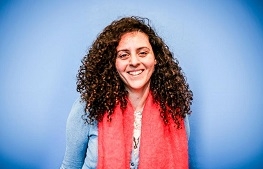 Yasmin Fedda is a BAFTA-nominated documentary director. Her films have screened extensively at festivals including Sundance and Edinburgh International Film Festival, and have been broadcast on BBC and Al Jazeera. She has made three films in or on Syria, most recently 'Queens of Syria' (2014), which won the Black Pearl award at the Abu Dhabi Film Festival and best female director at Carthage Film Festival. Yasmin has a PhD in Transdisciplinary Documentary Film, and is also a co-founder and programmer of Highlight Arts, an organisation that works with artists in times of conflict.
Contacts