Ayouni
Fall Grants 2017 - Production Stage
Current project status: COMPLETED
Synopsis
Bassel was a successful open source developer and hacker in Damascus. Paolo was a well-known priest based in Mar Musa monastery. Both men were active in the 2011 revolution, and witnesses to crimes before they were forcibly disappeared. 'Ayouni' follows these two high-profile figures of the Syrian revolution and asks how to rebuild a country when its civil society has been disappeared, killed and scattered across continents. Much like archaeologists, we are left to dig through the dirt in the hope of finding mere fragments of the truth.
Credits
Director

Yasmin Fedda

Screenwriter

Yasmin Fedda

Producer

Hugh Hartford, Elhum Shakerifar
About the Director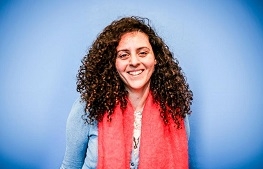 Yasmin Fedda is a BAFTA-nominated documentary director. Her films have screened extensively at festivals including Sundance and Edinburgh International Film Festival, and have been broadcast on BBC and Al Jazeera. She has made three films in or on Syria, most recently 'Queens of Syria' (2014), which won the Black Pearl award at the Abu Dhabi Film Festival and best female director at Carthage Film Festival. Yasmin has a PhD in Transdisciplinary Documentary Film, and is also a co-founder and programmer of Highlight Arts, an organisation that works with artists in times of conflict.
Production Company Profile
Banyak is an innovative production company that has been making award-winning documentaries for cinema and broadcast since 2006. They've had films in cinemas worldwide including the UK, USA, Asia and Scandinavia. They have made films for major broadcasters including PBS, BBC, Channel 4, ARTE and Al Jazeera. Credits include, 'Thank You For The Rain' and 'Ping Pong', a BRITDOC feature film for Film 4.
Hakawati was founded in 2017 to produce, distribute and curate films with the art of storytelling at their core. Set up by BAFTA-nominated producer Elhum Shakerifar, and building on her multi-award winning productions and curatorial work to date, Hakawati supports storytellers with distinctive vision and enables new talent to take creative risks. Hakawati is committed to the broader visibility of independent film, giving platforms to quieter voices and unique individual – often minority – perspectives in relation to a dominant whole. In making creatively bold films with integrity, representation and reframing narratives are at the heart of what we do. The company's projects are all derived from the central tenet that a good story is in the telling, and that, after all, we are the stories we tell. Hakawati is supported by the prestigious BFI Vision Award – awarded once every three years to leading UK producers; Shakerifar was the only documentary producer among the 2016 recipients.
Contacts