Another Spring
Fall Grants 2021 - Post-Production Stage
Current project status: POST-PRODUCTION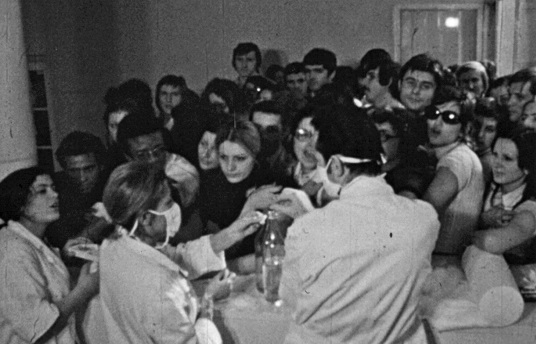 Synopsis
Smallpox is the deadliest disease in human history, and its eradication is one of the greatest achievements of our civilization. In a story that united the entire world and never felt as relevant as it is today, the final outbreak in Europe during the 1972 Yugoslavian epidemic was one of its most inspiring chapters.
Credits
Director

Mladen Kovacevic

Screenwriter

Mladen Kovacevic

Producer

Iva Plemic Divjak
About the Director
Mladen Kovačević's poetic approach is rooted in the simplicity of realism. His films explore various styles with idiosyncratic dramatic structures and the unconventional approach to naturalistic aesthetics. Premiering in Nyon and Rotterdam, his films travelled festivals, were broadcasted, and awarded internationally. A three-time Grand Prix winner at Beldocs, his other awards include a Spirit Award at Brooklyn FF and Best Doc Feature at AcampaDoc Panama ('Unplugged', 2013); Special Jury Mentions at Visions du Réel and ZagrebDox and Best Documentary Award at Ibiza Cine Fest ('4 Years in 10 Minutes', 2018); The Heart of Sarajevo for Best Documentary at Sarajevo Film Festival and FIPRESCI Award at Flahertiana ('Merry Christmas, Yiwu', 2020). The Institute of Documentary Film has included Kovačević's 'Wall of Death and All That' in their 20th-anniversary selection of the 20 films showing many faces of Central and Eastern European documentaries. Horopter Film Production produces his films.
Production Company Profile
Since 2013, Horopter Film Production has been developing and producing feature films directed by its founder and CEO, Mladen Kovačević. Horopter focuses on telling great stories in unique ways and in a variety of genres, to make movies that resonate with audiences both domestically and abroad. Premiering in Nyon and Rotterdam, Horopter's films are critically acclaimed and well-travelled on the festival circuit (Visions Du Réel, Hot Docs, IFF Rotterdam, CPH:DOX, Dok Leipzig, Sarajevo FF, FIDMarseille, IDFA), broadcasted and awarded internationally. Horopter's partnerships include broadcasting co-productions with ARTE and RTBF and sales representation by Taskovski Films, Restart Distribution, Kino Rebelde and Deckert Distribution. Iva Plemic Divjak joined Horopter as a producer in 2017, focusing on international financing and project development.
Contacts