All That Passes By Through A Window That Doesn't Open
Fall Grant 2014 - Post-Production Stage
Synopsis
Amid the attempt to revive a 'new Silk Road' between Europe and Asia, Azerbaijani men labour to build a new railroad that promises to bring glory to a new generation. Across closed borders in Armenia, a lonely stationmaster sits idle in suspended time, waiting for 25 years for the return of trains. A journey by rail, where men reflect upon desire and regret, floating through a Eurasian expanse, striving to fill their days and dreams, as much as their pockets.
Credits
Director

Martin DiCicco

Screenwriter

Martin DiCicco, Iva Radivojevic

Producer

Martin DiCicco

Production Company

Production Aesthetics

Production Company

Sakdoc Film
About the Director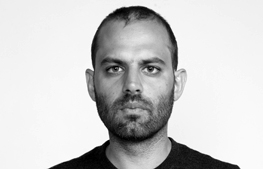 Martin DiCicco is a cinematographer whose documentary work has been broadcast on NHK, ESPN, and the History Channel in the United States. Commercially, he has shot campaign spots for Google and Red Bull. He shot and directed episodes of the series, 'UnDrafted', which was nominated for a 2015 Emmy Award for Best Documentary Series. His feature-length documentary filmography as cinematographer includes Nick Sherman's 'Soundtracker' (2010), which was selected for Hot Docs, and Joshua Tickell and Rebecca Harrell Tickell's 'Pump' (2014), which screened at the Zurich Film Festival. 'All Passes By A Window That Doesn't Open' is his feature directorial debut.
Awards and Festival History

Festivals


Hot Docs Film Festival 2017
CinéDOC-Tbilisi Int'l Documentary Film Festival 2017
Camden Int'l Film Festival 2017, Emerging Visions

On the Line screening series (August 2017)

Awards


Best First Film, Visions du Reel 2017, Regard Neuf (WP)
Contacts