After a Revolution
Spring Grants 2019
Current project status: POST-PRODUCTION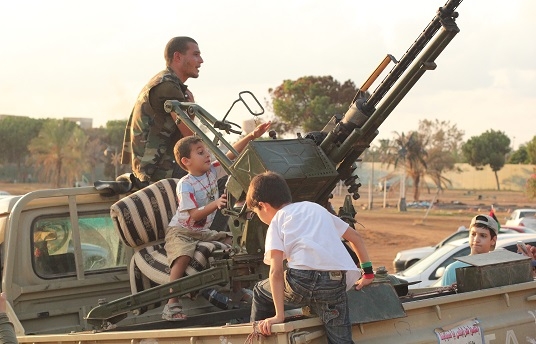 Synopsis
Filmed over six years, 'After A Revolution' is the challenging story of a brother and sister struggling to rebuild their lives after fighting on opposite sides of the Libyan revolution. Separated by their ideologies but bound by the love of family, and the love of their country, they attempt to rebuild their lives from the wreckage, devoured by trauma yet never giving up. Their epic, complex journey reveals at close range the psychological repercussions of conflict, modern-day intervention and proxy wars, yet at its core—it's a story of family and survival.
Credits
Director

Giovanni Buccomino

Screenwriter

Giovanni Buccomino

Producer

Naziha Arebi, Alessandro Carroli
About the Director
Giovanni Buccomino gained his Master's in History and Philosophy at the University of Rome. While studying, Giovanni worked as a sound engineer in music and later moved into sound design and making sound work for Criterion Collection, Arte, Sky Arts, Rai, and Discovery Channel. In 2010 he directed his first feature, 'The Valley of the Moon', selected at festivals like Festival dei Popoli and Hot Docs and winner of the Jury prize at the Village Doc Festival in Milan, Italy. In 2011 Giovanni directed TV hour 'YanquI' for the 10th Anniversary of 9/11 and a film on Libya's Tabu ethnic group for Al Jazeera. Giovanni continues working as a sound designer and field recordist as well as directing his own films. Co-founder of Bad Donkey Films, Giovanni is also a Sundance Lab fellow, was an Executive Producer and Sound Designer on Libyan feature doc 'Freedom Fields' and is currently working on his feature film 'After a Revolution'.
Production Company Profile
Co-founded by Giovanni Buccomino and Naziha Arebi, Bad Donkey Films develop character-driven cinema, that provokes, while also revealing an alternative narrative and intimate access into stories of conflict. Films include the award-winning and BAFTAnominated 'Freedom Fields', and the Sundance/Tribeca/FOV/ DFI/ Rai Cinema supported 'After a Revolution', which is currently in post-production. Naziha is also developing a hybrid fiction film, and Giovanni is working on a mid-length for The Guardian Shorts. He also develops sound design for both fiction and documentary.
Contacts
Main Contact

Alessandro Carroli

Company:

EiE film

Phone:

+393395091339

Email:

amministrazione@eiefilm.com