A Comedian in a Syrian Tragedy
Spring Grants 2016
Current project status: COMPLETED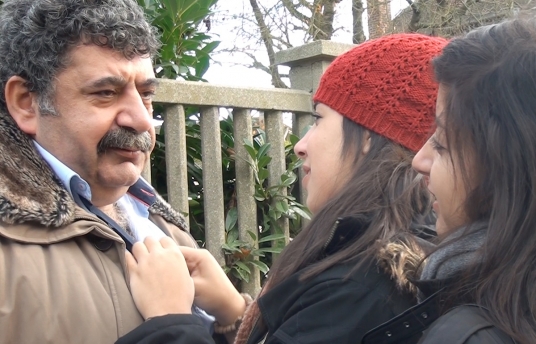 Synopsis
This chronicle of an uprising and of exile begins in the early months of the Syrian revolution, when director Rami Farah decides to follow Syrian actor Fares Helou, one of the first Syrian stars to take a public stand against the regime of Bashar Al-Assad. Helou participates in a demonstration, he and his family receive threats, and he worries about Al Bustan, an art centre he is trying to establish as a free space for artists of all kinds. After Al Bustan is destroyed by the regime, Helou leaves Syria for France. Farah follows with Helou's wife and children, believing they will soon be back in Damascus. He expects the revolution will be a success. But Syria falls apart, and neither actor nor director has a script for this new chapter in their lives: exile.
Credits
Director

Rami Farah

Screenwriter

Rami Farah

Producer

Signe Byrge Sorenson
About the Director
Rami Farah was born in Syria in 1980. After studying dance at the Higher Institute of Arts in Damascus, he attended numerous training courses and workshops in contemporary film and dance. His first films and videos blend dance and audiovisual material. 'ZamKan' (2004), unfolds as a dialogue between a ceiling fan and a chair in a silent room. It was followed by 'Point' (2004), a short video that was screened in several exhibitions and festivals. In 2006, Farah shot and produced a 35-minute documentary about the Golan Heights entitled 'Silence'.
Production Company Profile
Final Cut for Real is a film production company based in Copenhagen. The company was founded in 2009 by producers Signe Byrge Sørensen and Anne Köhncke, editor Janus Billeskov Jansen and director Joshua Oppenheimer. Since then, producers Monica Hellström, Maria Kristensen and Heidi Elise Christensen have joined the company. Dedicated to high-end creative documentaries for the international market, Final Cut for Real's policy is to be curious and daring, and seek out directors with serious artistic ambitions. With no limits on subject or location, we look for interesting stories, great characters and in-depth social analysis – and try to give films a twist of humour. We cover a wide range of development and production expertise – and work with younger talent as well as established filmmakers to create a productive mixture of experience and new approaches to documentary filmmaking. Our films have won Danish, Nordic and international awards and have been screened at numerous festivals around the world.
Contacts